I WON THE SARA DOUGLASS SERIES AWARD
for THE WATERGIVERS aka STORMLORD trilogy
I don't even know where to begin.
For a start, Sara was one of my author heroines.
Secondly, this is the inaugural award.
Thirdly, the award covers series written over a number of years, as long as they were completed between 2011 to 2014 — so it covers an awful lot of years and an awful lot of books… (Pity the judges!!) You can read more about the award here.
So chuffed. So breathtakingly amazed. Especially considering that the shortlist included Juliet Marillier, Tansy Rayner Roberts, Michael Pryor, Marlina Marchetta and Rowena Cory Daniells.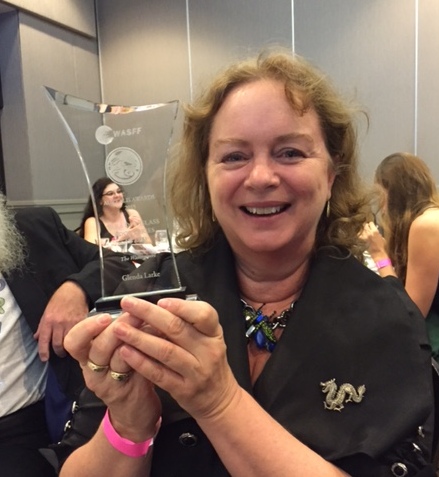 No, that's not me…but my name is on that trophy!!
Unfortunately, I couldn't be there, owing to the arrival of a brand-new member of the family in New York, but I was prevailed upon to write an acceptance speech just in case, which you will find at the end of this post. It was delivered for me by a fellow writer, Donna Hanson (above), at the Aussi Natcon 2016 in Brisbane. And I believe there were celebrations…see photo left.
There were a lot more things I could have said in the speech — how much I owe to the then Voyager Australia editor, Stephanie Smith, for example. How much I owe my beta readers for making me a better writer and making those three books better works. How much I appreciate the work put into the awards by the Australian Spec Fic community and the judges.
But here's what I did say:
When I first read Sara Douglass's Battleaxe back in the 1990s, I was blown away, not just by the story, but also by the idea that an Australian author could publish a fantasy novel worldwide and find acclaim on a world stage.
At the time I was looking for a publisher for my first book — and Sara's success was an inspiration. And of course, Battleaxe was just the first of long line of Sara's groundbreaking novels.
I was delighted to hear that a series award was being created in her name, to acknowledge her pre-eminent position in Australian speculative fiction history. The fact that judges had a massive job of reading the number of series up for the award is a tribute to the present health of Speculative Fiction writing in Australia, a wave of creativity of which Sara was the forefront.
To have been short-listed by the judges for the inaugural award was a breath-taking compliment. The other works on that list are so impressive that I certainly don't believe, as I write these words, that any work of mine could win. I just love the validation of being on the shortlist though, and I thank everyone involved.
Most of all, I wish you were here, Sara, still with us and still writing.