The Mirage Makers - Book 3
(Australian edition)
ISBN: 9780732282004 (0732282004)
Format: Paperback
Published:
HarperCollinsAustralia
, July 2007
Barnes & Noble (US)
Waterstones (UK)
Amazon.com (US)
Amazon.co.uk (UK)
Amazon.com.au  (Australia)
Book depository (worldwide)
Kobo (US)
Kobo (UK)
Kobo (Australia)
eBooks.com (Australia)
Synopsis
Ligea's son, Arrant, leaves Tyrans for Kardiastan to take his place as Mirager-heir, while Ligea prepares to halt an insurrection. But Arrant's skills as a Magoroth are dangerously inconsistent, and his father, Temellin, finds it difficult to communicate with this secretive young man he barely knows.>
Arrant's singular ability to communicate with his half-brother, Tarran—a part of the collective mind known as the Mirage Makers—leads them both towards the possibility of a tragic clash with the encroaching Ravage.>
As Arrant's enemies among the Magoroth plot to ruin his family and his future as heir, he begins to realise there is a greater mystery to solve if he is to prevail.>
Praise for The Mirage Makers and Isles of Glory Trilogies:
'fresh, strange and intriguing' Sunday Age
'highly imaginative and entertaining' The Specusphere
'witty, gritty and enthralling' Trudi Canavan, author of The Magicians Guild
'a multi-layered story … it just keeps on getting better' fantasticqueensland.com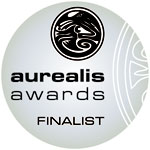 2006 Aurealis Awards for Fantasy and Science Fiction
Shortlisted – Best Fantasy Novel
Reviews
In the end, the main questions are: is it enjoyable? Do you care about the characters? Is it well-written? The answer to all these is yes.

In the final book in the Mirage Makers trilogy, Mirager-heir Arrant takes centre stage. Most of the action is seen from his perspective, as the scheming in Tyr becomes sidelined and the real threat that has been building throughout the trilogy emerges: the malevolent Ravage threatening to destroy the Mirage, and with it the ability of Arrant's people to use magic.

As in the previous novels, this is a story of emotions and politics rather than bloody war, and Larke tells it well. You struggle with Arrant as he's humiliated and manipulated, and are genuinely uncertain as to whether he'll endure and what his fate will be.
Summary: A fast-paced, adventurous final book in the series that will keep you on tenterhooks until the very end.

I might as well declare that I'm a fan of Glenda Larke. I very much enjoyed the first two books in the series and I've been waiting with impatience to discover what she had in store for Ligea, Arrant, and all her other characters. My expectations weren't disappointed…

(…) more than enough in this story to keep me by turns amused, entertained and enthralled.

(…) It's a mark of a good trilogy that the end of a book can leave you both feeling complete and still wanting more, and I'm hoping there'll be many more books to come from Glenda Larke.
In this, Glenda Larke's seventh book, the author shows us yet again what a magnificent gift she has for world-building … Larke has demonstrated in previous books that she not only has one of the best imaginations in the business but that she also has a strong social conscience and this is shown as clearly as ever in the latest opus…
This premise looks like the start of still another all-too-unsurprising coming-of-age novel, but Larke has given the situation such twists and turns that by the end of the book the trope is almost completely turned on its ear, and Song of the Shiver Barrens is a better book by far because of it. Like Arrant's powers, it is completely unpredictable and readers can expect to be glued to their seats until the final page is turned.
The final book in Glenda Larke's second fantasy series is a fitting end to a superb creator of new worlds. Once again Glenda Larke has shown the fantasy fan that she is a writer of subtlety and depth.
Stuart Mayne, co-editor of Aurealis, in AurealisExpress, July 2007
Both the second and the third books in this series were nominated this year, and the judges rated both highly, however, this one made the shortlist as it was a much stronger book, perhaps because it finalised the trilogy, but also because of the nature of the relationships between the characters. The plot was powerful and the fantasy stylish, and the writing was highly polished and engaging.
Judges Report 2007 Aurealis Awards Fantasy Novel Finalists
Other editions
(UK edition)
ISBN: 9781841496078 (1841496073)
Published:
Little, Brown Book Group
, May 2008
Cover page incorrectly indicates this is book two, not book three.
Brennender Wind
(German edition)
ISBN: 9783442267989 (3442267986)
Format: Paperback
Published:
Del Rey
, July 2013
Brennender Wind
(German edition)
ISBN: 9783641096212 (3641096219)
Format: Ebook
Published:
Del Rey
, July 2013