Barnes & Noble (US)
Amazon.com (US)
Amazon.co.uk (UK)
Amazon.com.au (Australia)
Apple
Google
Kobo
WHSmith (UK)
eBooks.com (Australia)
"The publisher sank shortly after the book's release, making it something of a collector's item…"
Jason Nahrung, in the Brisbane Courier Mail, May 2004
Havenstar is once again available, now as an ebook!
Author's note:
Havenstar was my first published book, and is the only book of mine written under my married name of Glenda Noramly. The story has not changed one iota in the intervening years, but this ebook edition has been re-edited to reflect all I have learned about being a better writer. The artwork for the map was done for me by Perdita Phillips.
I have followed UK/Australian spelling and punctuation conventions, so you will find humour rather than humor, ploughs rather than plows, and dishevelled travellers instead of disheveled travelers… Forgive me, I'm an Australian.
Synopsis
The Eight Stabilities are islands of order surrounded by lethal chaos—and the order is being swallowed by the unstable. The religious leaders of Chantry try to maintain the Stabilities by ordering the necessity of a once in a lifetime pilgrimage across the chaos. And in that ever-changing world, the most important person is a mapmaker who can make a chart of secure pilgrimage routes…
Keris Kaylen is a mapmaker's daughter. When her father is murdered and a mountain disappears, Keris is betrayed by her brother. Forced to flee into the Unstable, she finds her safety is in the hands of a man bonded to the Lord Carasma, the Unmaker…and her ordered life is turned upside-down. Her survival will depend on a map and a place called Havenstar—but she can't reproduce the map, and Havenstar may not even exist…
Maps
The map that appears in the book was created by Australian artist Perdita Phillips.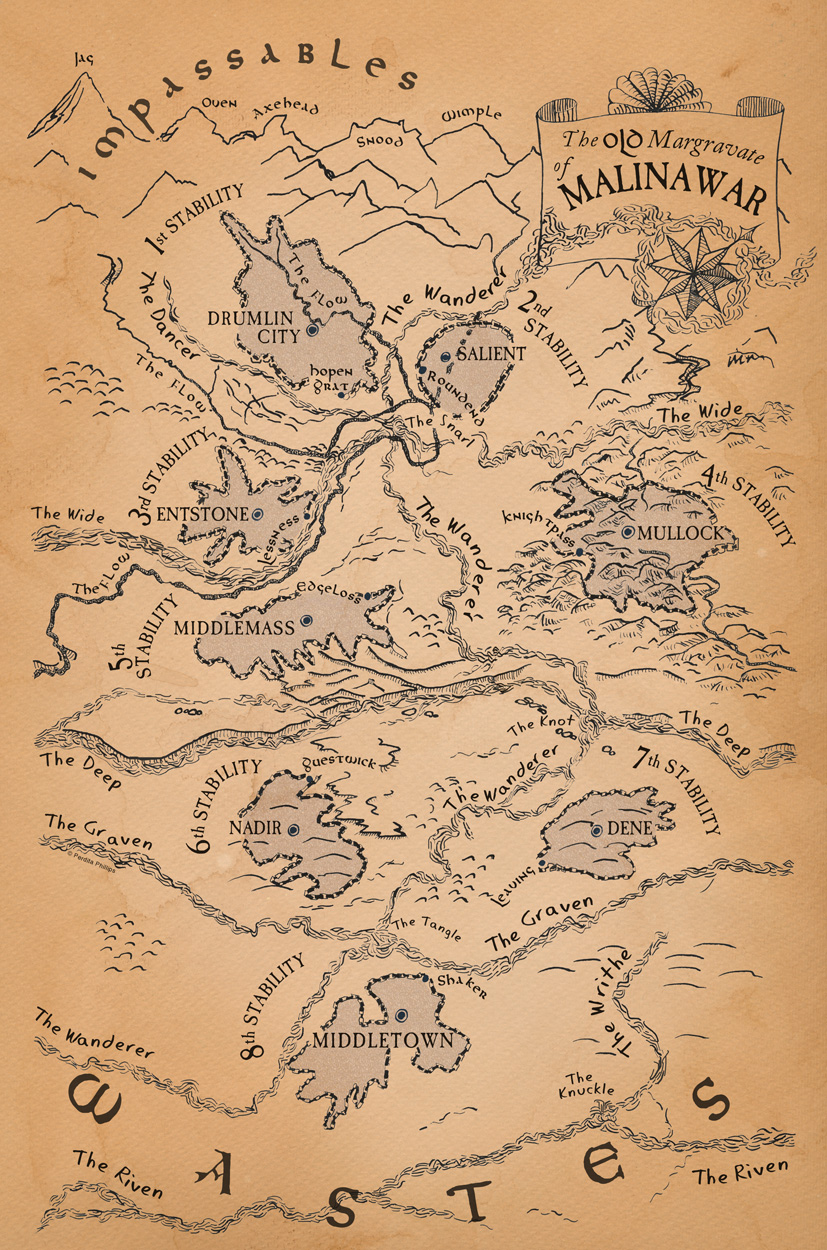 Reviews
Havenstar is an original, engrossing page-turner of a fantasy. You want strnge and powerful magic, world changing heroism, and courage in unlikely places—it's here. Noramly's protagonists are likeable and conflicted (always an engaging combination) and have an agreeably (for the reader that is) tough time before they can reach their happy ending. Noramly doesn't flinch from portraying the risks involved in following your dreams, but she also warmly emphasizes the rewards. Terrific stuff—this author is one to watch. Starburst rating: 10/10
Barbara Davies in STARBURST #248 April 1999 (UK), Vol 21, No.10
This is an exciting, fast-moving page-turner that draws you in from page one and holds your attention until the final full-stop. Noramly has created a cast of characters that you genuinely care about and a world that has scope for a lot more novels. Not only are we taken on a bloody, sweaty journey across the Unstable, but we are drawn into an unlikely love story that appears doomed from the start… If you are looking for something new and a bit different, you could do a lot worse than this, one of the best books I have read this year.
Alex Wormall in THE ALIEN HAS LANDED (Online) Quarterly Science Fiction, Fantasy and Horror Review January 2000
An outstanding example of good fantasy…
What sets this book apart from so many others is the smooth flow and development of the plot, the richness of the characters and the believability of the twists as the plot unfolds.
John R.Clark in BOOTHBAY REGISTER (Maine USA), Vol 123, No. 69, November 1999.
Other editions