Books
Maps
The maps that appear in the books were created by Australian artist Perdita Phillips.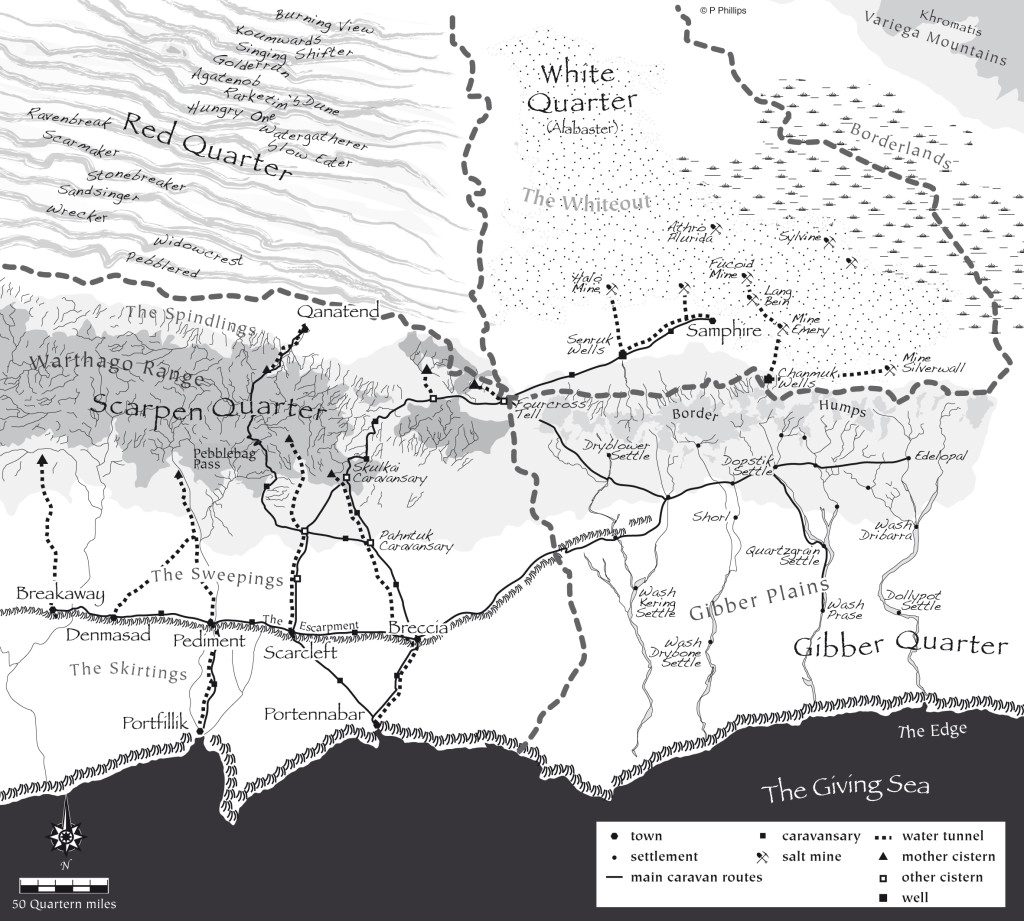 Where did the idea for the Watergivers come from?
The short but honest answer is—all over the place.
I guess it started when I was kid. We drank rainwater funnelled by guttering from the house roof into a galvanised iron tank. And one long, hot, dry Australian summer in the 1950s, a rat drowned and decomposed in the water tank—and we had to throw the precious water away. Until the next rain, still a month or two away, we carted water from neighbours—who also went short because they shared. There's idea number one: water is precious. I hardly remember a time when I didn't know that.
As an adult I went to live in a country (Malaysia) where the tropical rainfall is frequent and torrential, yet I often didn't have water in my taps because we lived on a hill. I'd see people washing their cars at the bottom of the hill, wasting water, while I didn't have enough water to cook my dinner. There's idea number two: water distribution is uneven and unfair.
Then I spent five weeks camping inside a rainforest, studying the birdlife for an environmental impact assessment—knowing all the while that the area and the miracle of its biodiversity were doomed to disappear under dam waters to supply Kuala Lumpur with more tap water—all so I could cook my dinner. That's idea number three: having adequate water means sacrificing something. In The Last Stormlord, it is not the biodiversity or the land though; the sacrifice is far more personal.
Next idea came I was flying 30,000. over Iran on a beautifully clear day, and I looked down and saw lines of holes—they must have been miles long—feeding into villages. What were they? Why were they there? Back on the ground again, I did some research. Two thousand year old water tunnels still being used? Really? That was fascinating, and idea number four.
Then one December, I visited a town in the Saharan desert in Algeria. And there were date palm plantations and houses built in the dry water courses, houses with strange slits in their garden walls. Why? And what happened to those houses when it rained? That December day they had their first rain for the year. Idea number five was born.
Back to Australia, and another plane, another scene: lines of parallel red sand dunes sliding past below for vast distances—and not a road or a house or a town in sight. And when the dunes finally dropped out of sight behind us, huge salt pans took their place, fed by dry washes—without a drop of water in sight. Yep, idea number six popped into my head. Moving sand dunes and vast salt plains.
And then an article in a newspaper about a scientist doing research on sand dunes that sang. Since then, I have listened to recordings of the voice of singing sand dunes. Ohmigod, how could I resist writing about that. Number seven.
And finally, somewhere in India, a man doing beautiful paintings using powdered paint on the surface of water. Pure magic. Wow. Number eight.
Ancient water tunnels, moving red dunes, singing sands, salt pans, settlements in dry water courses, waterpaintings, precious water.I had my world. All I needed was the people to inhabit it.
That was easy—who could have the power in such a world? The man—or woman—who controlled the water, of course. And what better way to control water than with magic? The story of the stormlord, a waterpainter and two rainlords was born.
Reviews
… The Stormlord Trilogy is more than just good Australian fantasy. It's "A" list fantasy for readers everywhere and a wonderfully crafted piece of fiction.
…
In tone and quality, Glenda Larke's Stormlord Trilogy is the closest thing I have read to Robin Hobb's The Farseer Trilogy in a long time. The setting, characters, world-building, theology and plot are all done with exceeding care and all come off without a hitch.…

The plot lends itself nicely to heavy doses of political and social treachery, so along with the two affable protagonists; Larke gives us a host of colorful villains to hate.
…
Generally speaking, there is much to enjoy and admire in this series. The final book of the series, Stormlord's Exile, was strong enough to make my list of best fantasy reads of 2012. … if you're looking for an entertaining fantasy series, I would highly recommend checking out The Stormlord Trilogy.