Ranging in age from 6 to 70, and consisting of two Americans, two Australians, a Malaysian, and one who is some way or another all of those nationalities, set out on a holiday.
Yep, the Noramlys were travelling again – this time to Siem Reap. That's Khmer for "Siamese Defeat", and it is the town that harbours Angkor Wat within its immediate vicinity. The reason was to celebrate a special birthday: the proverbial three score years and ten. (Not mine…yet)
And so for the next few days you are going to be swamped by photos of a family holiday… if they bore you, come back to the blog over Easter (when I shall be blogging from Natcon 50 held in conjuction with Swancon in Perth. Of course if you had any sense, you'd actually BE THERE.)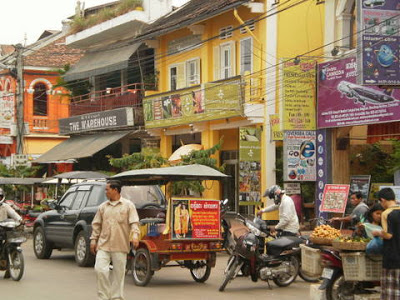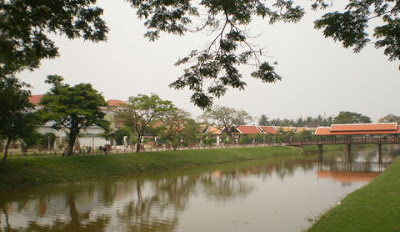 A tuk-tuk, Cambodian style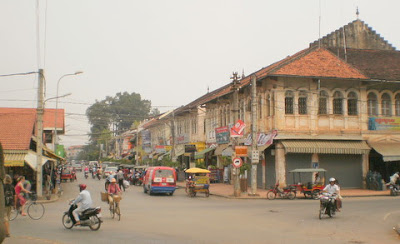 Near the old market
Asleep in a hammock along the river.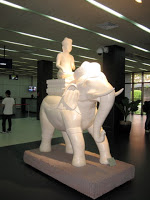 This person had a mirror hanging from the tree, along with their belongings, and a Common Tailorbird was desperately attacking his own reflection…
Spirit house outside our hotel
Our van
Outside our hotel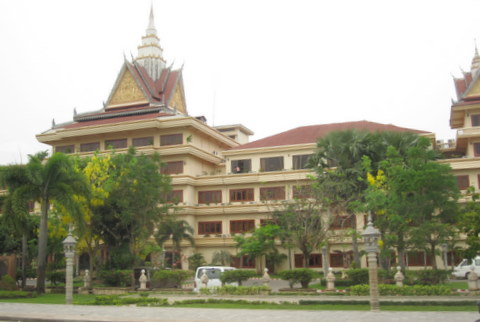 One of the many, many hotels
Today's shots were taken around the town, starting with the statue in the rather magnificent airport, and the van that was our mode of transport for five days, in contrast to the more normal mode of the tuk-tuk – a trailer for four, pulled by a motor bike.
The others are just street scenes around the town, varying from the serene banks of the river and some of the rows of fancy hotels that adorn the main streets, to the more hectic hustle of the centre of town, and the odd little scenes that struck me. Like the festooned electric wires, the spirit house, or the pink frill on the tuk-tuk.
At first glance, Siem Reap seems a prosperous place, thronged by both backpackers and tourists with much money. Both bring the currency to sustain what appears to be a thriving economy. Yet Siem Reap's income is just the icing on the cake. Unfortunately, this icing melts on the tongue of too few people, and under it there's not much but crumbs.
Make no mistake; Cambodia has a long way to go. Too few people have access to education. Too few read and write. Too few have access to even basic medical care or contraception. One man I met at an international conference some years ago – a talented, hard working man with a strong interest in saving the birdlife of a country just emerging from too many years of war and starvation and strife – he died, murdered, in effect, when he was given fake medicine to treat his malaria.
Go to Angkor Wat if you can. Because it is inspiring, but mostly because your money helps. It really does.