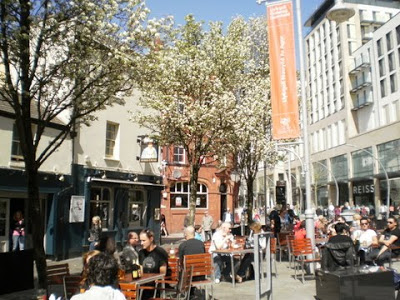 The photo, taken in Cardiff yeseterday, is just to show you that Spring weather – yep, bare arms and sunshine in mid-April. Who says UK has lousy weather?
__________________________________
Two lovely reviews for Stormlord Rising, the second book of the trilogy, this week.
The first is from Crisetta MacLeod (who like me at the moment is wondering if she is going to be able to get home from UK!) at AurealisExpress, April 2010. The review ends:
"Larke broadens our knowledge of her world with adventures amongst the dune dwellers in the Red Quarter, and with the Alabasters in the White Quarter. She is a past master in exploring the emotions of her characters, whether they are struggling with relationship problems, facing moral dilemmas, or taking part in war. Battle scenes are so vivid that the reader is right there in the midst of it all. And how I love the pedes, huge insect-like creatures that are the main form of transport. I love all of it, became totally immersed in it, and look forward to reading more."
The second review is from Helen Venn, over at Specusphere.
She says some lovely things about the character and setting and concludes by saying:
"Larke's many fans will be delighted by the complex plot and intriguing twists that augur well for the next book. In fact, Stormlord Rising will appeal to anyone who enjoys a well written fantasy. There are very few books that I find literally impossible to put down, but like its predecessor, The Last Stormlord, Stormlord Rising was one. I read them in single marathon sessions and I do not look forward to the wait before Stormlord's Exile, the final book in the trilogy, comes out and all the threads of the story are brought to a conclusion.
"One of the outstanding Australian fantasy writers currently in print, Glenda Larke was deservedly shortlisted for the 2009 Aurealis Award for Best Fantasy Novel for The Last Stormlord and she has maintained the quality in Stormlord Rising. I will be surprised if this book does not figure in the 2010 Aurealis Awards."