The rainforest is a huge complexity of life – exuberant overkill, in fact. To a newcomer it can be overwhelming. Tourists from temperate parts of the world often walk through it and see almost nothing. They cannot separate out the elements from the whole. Quite literally, they don't see the trees for the forest, let alone see the spiders on the trees…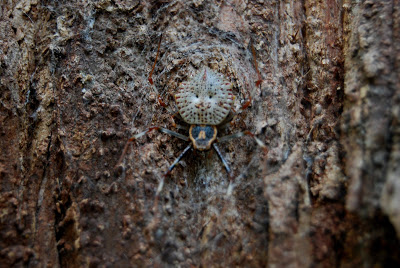 Note above the cat-like face on this spider's abdomen.
Pix 2: Bracket fungi on a tree.
Above: A bug on the bark. And another fantasy face stares out above some fancy buttons on his jacket.
Below: a wild orchid.