This entry is for
Jo
.
The model is my younger daughter (of
Bedtime for Toys
band, as you can see from the T-shirt)
The dish is fried Tempe, which is a kind of compressed fermented soya bean. You buy it in the market, wrapped in a leaf (Pix 1)…
Pix 2: Don't take any notice of the chopper. She added that for effect…
This is what the tempe looks like when you unwrap the leaf (which is then discarded. Wonderfully biodegradable and doubtless Western countries would ban it as unhygienic or something). The whiteness is the fungus that ferments the beans.
You coat the tempe in flour and tumeric and fry.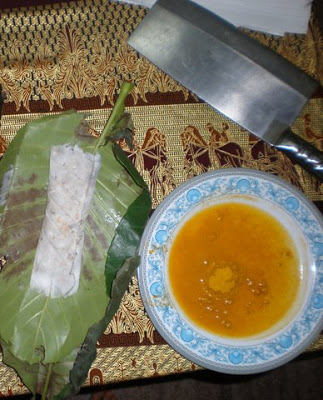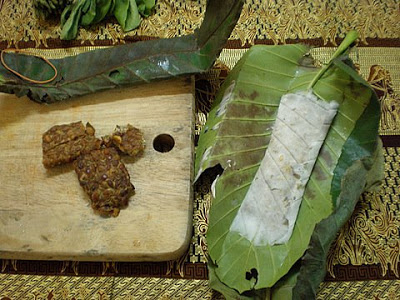 And here on the board you have the finished product. Simple.
Of course there are other ways of cooking it too; this is just the most basic. It is a rich protein source and has a nutty flavour. Usually eaten as a side dish to a rice and curry meal.