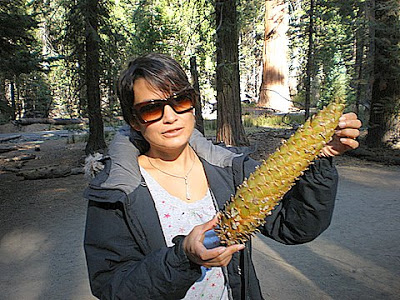 The pix above is younger daughter holding the cone of a sugar pine in Yosemite. They grow things big there, remember? The white bits you can see on the cone are pieces of resin and they have a glorious smell. (Now why can't the manufacturers of those awful car deodorizing dispensers reproduce that forest smell of pine leaves and trees in autumn? I'd buy it like a shot to remind me of Yosemite…)
Meanwhile a different kind of smell. It's called muckraking and it stinks.
When I was at university, I spent hours of my time one year in the company of a man who the following year murdered his son in a premeditated killing. True, I was never actually alone with him, but still… He was my lecturer and tutor and I really thought he was lovely man. I have
spoken in a social setting to at least one other convicted murderer (after he was released from jail). Over the course of my life spoken and yes, dare I say it, knowingly socialised with people who have been in jail, been drug addicts, thieves, religious perverts, Nazis (real ones) and bigots.
Am I therefore one of them? Am I a murderer perhaps? Do I therefore share their views? Yep, according to some. See here.