.
One of the things that people do at a sf/f convention is go and listen to the panels.
There are plenty of them to choose from, and the problem is often which to choose because there are a large number of them on at the same time.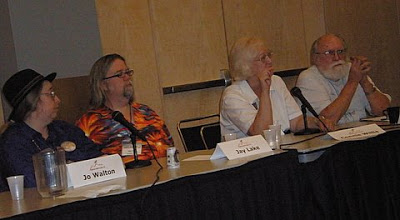 And there are several different reasons to choose to attend a particular panel. After all, who could resist a panel that included Connie Willis, George R.R. Martin and Lois McMaster Bujold and (if I remember correctly) Larry Niven, all talking about how they started reading SF and what their early influences were? Or one (top pix) with Joe Haldeman, Connie Willis and Mike Resnik? The title of that one was: "The Best Convention Panel Ever", but they spent most of their time talking about "The Worst Convention Panel Ever", and similar disasters instead. It was a laugh a minute. Then there was the panel on "Making a Living Telling Lies" with Jo Walton, Jay Lake, Connie W., and Bill Mayhew.
So the first reason is simply for listening to the greats of sf/f talking about what they do best – writing – and their influences.
The second reason is for information. Want to know about agents and what impresses them? Or listen to Brandon Sanderson talk about the last Wheel of Time novel? Or learn about the reality of space drives? Or dinosaurs? Or a world without fossil fuels? Or the Future of Libraries? There were panels on all those things.
My three panels wavered between great fun and…not so much. As I thought, the birds and dinosaur panel would have been a bit of a disaster for the audience if they'd only had me to listen to. As birders, David Coe and I sort of faded into the background and let the experts on dinosaurs take over. They were much more informed and I ended up learning quite a bit.
The panel on kicking off a story by using the myths of our cultures was interesting and ranged all over the place, taking in everything from 'have we had enough of King Arthur?' to cultural appropriation (.e. should writers use the mythology of another living culture, especially if they are going to alter it for their own purposes, or if it is still part of the religion of that people. Short answer: No. Exception: if you really know and respect the culture, enough to ensure that you won't offend, then – sure.)
The panel on writing in spite of one's environment was fun. A small and interested audience added to the debate, and the panel – all of us very different in how we approach the same problems – was a good mix.
Unfortunately, I never seem to get to enough panels because there is always so much other stuff going on – more about that next time.