At dinner: Karen Miller, Trudi Canavan, Joel Shepherd, Paul Ewins, Stephanie Smith
Having too much fun to blog much…!

It has been terrific to see old friends, and make new ones. Lovely to catch up with fellow authors/editors like Karen Miller, Trudi Canavan, Dave Luckett, Bevan MacGuiness, Ian Nicols, Cat Sparks, Jonathan Strahan, Joel Shepherd, Sean Williams and others…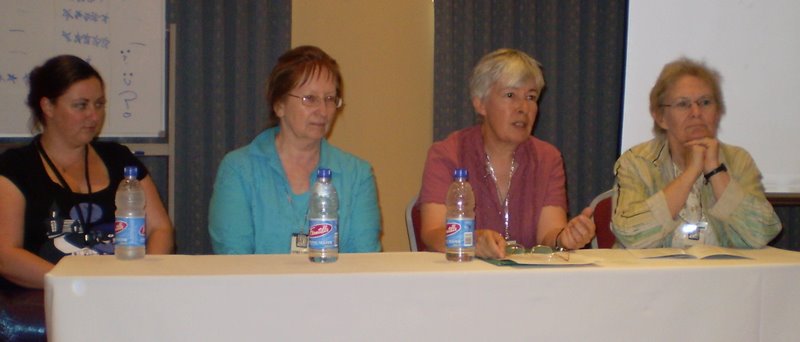 On a panel: Ju Landeesse, Satima Flavell, Juliet Marillier and self.
Great to see my Voyager editor, Stephanie Smith and the HarperCollins rep here in Perth, Theresa Anns.
At breakfast (?): Theresa Anns, Bevan MacGuiness and Karen Miller


Then there's old friends like Satima Flavell and even someone I haven't see since we were at University together back in the 1960s, Helen Venn. Wow. That's going back a bit…

I was on a panel today with the very talented writer Juliet Marillier. And after that I gave a workshop for some 20 people. Workshop is a bit of a misnomer. More that I just talked about writing and answered questions…wasn't half long enough! I just keep my fingers crossed that there may have been something of help there to someone. I remember only too clearly the ache to be published and how I wished I could have talked to someone who had got there.


At a panel: Voyager authors Karen Miller and Bevan MacGuiness, with Lee Battersby (left).