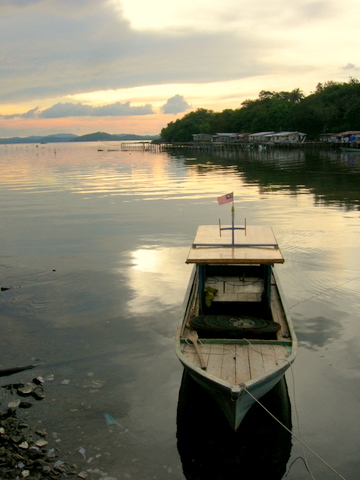 Here are some more pix from the northern town of Kudat – a part of their water village, and a Chinese temple/Hokkien clan association complex. Had to take a photo of the dragons, right? (Love those claws). I'm a fantasy writer and all fantasy writers put dragons in their…
Well, no they don't. But some people think we do.
We actually had to go to 5 different hotels in Kudat to find one that could offer us a room. In the morning we went down to the quay to buy tickets to Banggi Island. It was bedlam, as tickets cannot be bought in advance, and the company is not allowed to put on more trips during festivals or peak periods. It was therefore overloaded.
That night, watching TV as we had dinner, we heard about the ferry that caught fire and sank on the way to Tioman Island, with loss of life. Can't say I was surprised…
More about our trip tomorrow, if I can get internet connection. I am now having a coffee in The Coffee Bean in Kota Kinabalu just to get online. At home, with dear tm.net, all I get is "the remote computer is not answering…" Funny thing that. It always seems to happen during the holiday season. Do they perhaps turn off their server computers when they go on holiday…???