Some more photos from part of my grand trekking of April/May…yeah, the one that started my hips down the trail to disaster.
These are all from the incomparable Mulu World Heritage Site, Mulu National Park, taken around the HQ and the Mulu Rainforest Lodge.
The photos in order:
A picture of the Rainforest Lodge with rainbow
And without rainbow
Aerial roots of a fig tree falling down to the water – taken from the canopy walkway
A lantern bug next to my laptop.
A millipede on a boardwalk handrail.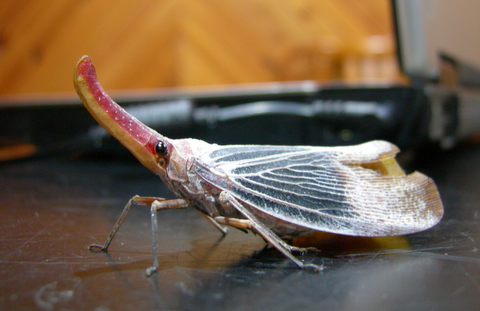 While watching that rainbow, flights of bats came streaming out of the caves skeining through the coloured archway as if it had been built for them in celebration of their release. They bunched up and then strung out, expanding and contracting like a single entity, scribbling living patterns across the sky.
And now I sit, contemplating 3 months rest to get rid of this pain, and remember.