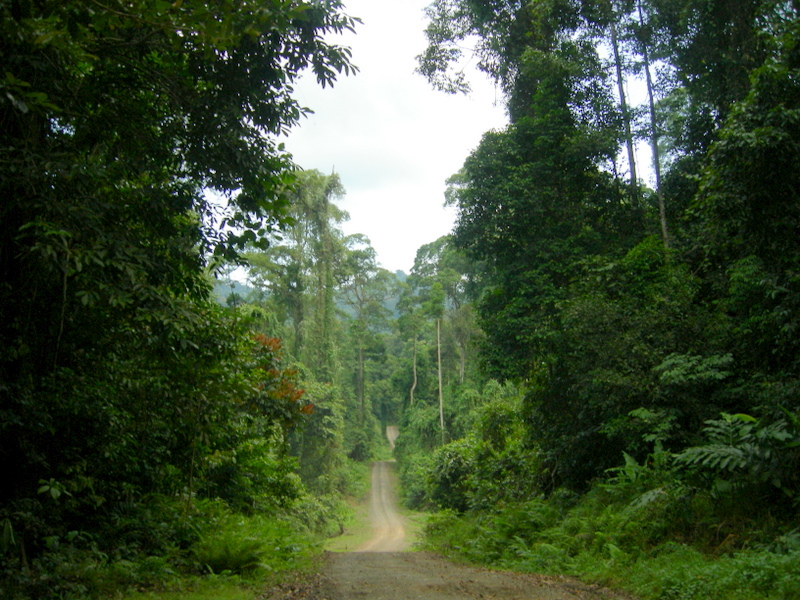 I find myself horribly lazy since I returned from our one month marathon and the many miles we walked over varied terrain, most of it rough. I have stopped taking painkillers, so my arthritic joints (which are just about all of the joints I have) immediately began to screech their protest. I am resisting resorting to the anti-inflammatories again now that I am once more relatively sedentary, but they won't lie down and be quiet, alas.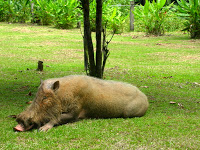 And I am endeavouring to write up the project report, but somehow it seems dull after the real thing. Who wants to write about marketing rainforest avitourism when the reality of the forest – the hot, sweaty, damp moulder of the fecundity, the glorious profligacy of the exuberant growth, the fragile perfection of the minutiae of the little things, the sheer wondrous beauty of it all, is there in memory. How can you reduce it down to dry words for a government report?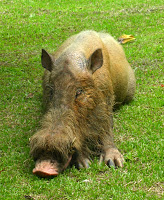 So what am I doing instead? Putting photos of Danum up on my blog, that's what… Sharing it with you.
There's the road into Danum, and the wonderfully lazy bearded pig who wandered out of the rainforest one day and decided that kitchen scraps are much tastier than earthworms rooted for along the forest floor.
Enjoy!