Some final shots from our trip to Langkawi. On our last evening, we went to our favourite restaurant on a beach, for a superb meal that didn't — by Western standards — cost the earth, where we could watch the parasailing as the sun went down.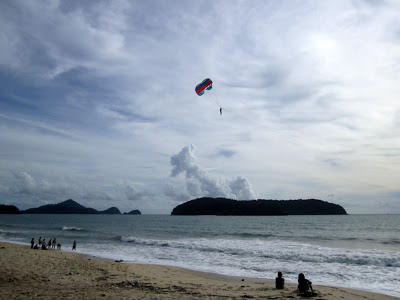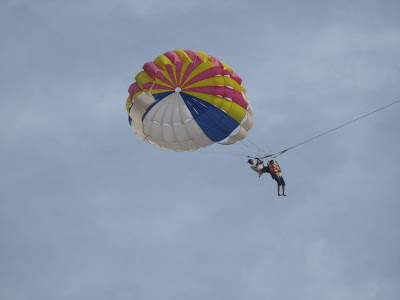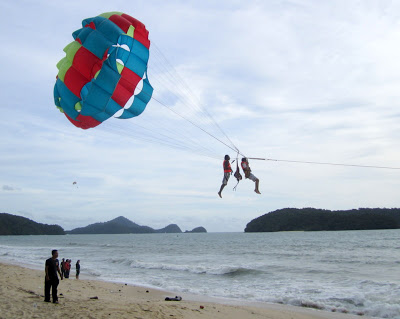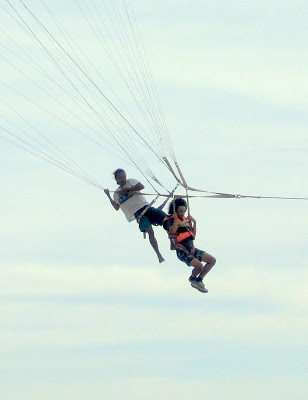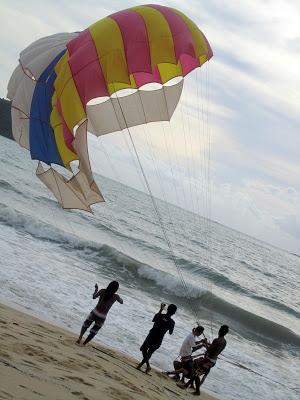 And one last memory to relate. We were lounging by the hotel pool, when husband got talking to a couple from the Middle East. Thirty-ish or so, good-looking, Western dress, she with a hubble-bubble, him with a can of Heineken, both with excellent English skills. They were from Damascus. At the time, the Syrian government, on a daily basis, was shooting mostly unarmed protestors in the streets of other cities, children included, all recorded on the ubiquitous camera phones and then emailed out as videos to the rest of the world…
"All lies," says the gentleman. "Damascus has no demonstrations, nothing."
His wife nods in agreement. "We're are very happy with our President. (Bashar al-Assad.) We don't want a change. Our government is a good one."
"All that you see on al-Jezeera, CNN — all lies," he says. "Don't believe it! 90% of Syrians do not want any change. We are a prosperous country. These are terrorists, thugs, attacking our legitimate government."
I look around at the swimming pool, the palm trees, fronds waving gently in the breeze, the sound of children laughing and splashing. A waiter brings colourful cocktails with umbrellas to a nearby table. The sun shines, the breeze is — perforce — balmy…
I think: enjoy this, my friend, while you may. Because if people like you won't acknowledge the true nature of your problem, how can you ever mend it?
And I am grateful, so grateful, I am who I am, living in this place, at this time. Or are we all living with our heads stuck in the sand?