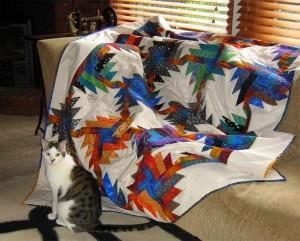 So, what am I doing blogging about a quilt? Because my signature is on one of those white pieces. And on white pieces you will find signatures from people like George R.R. Martin, Carrie Vaughn, Charlie Stross, Shaun Tan, China Mieville, Trudi Canavan, Rob Shearman, Paul Cornell, Kim Stanley Robinson…and some ninety or so other SF/F writers and artists.
A detail of part of the quilt
And this gorgeous thing is for sale!!!!!!!!!
Yep, you can BUY it, personally signed by all those people above.
You can read all about how to go about buying it here: and rest assured, the proceeds go to a very good cause.

Not in terribly good detail, but you can see some signatures
Conquilt was assembled by Rachel Holkner and award-winning quilter Jeanette Holkner. It is based on the pattern 'Tribble Trouble' (Yeah, those tribbles!) by Martha Thompson. It measures 152 cm x 192 cm with a 5cm diameter rod pocket on the back for easy display.
I adore it. (Many thanks to Rachel for all the hard work).
Oh, and I suppose I had better mention that the cat is not included.