We arrived in Siem Reap in the afternoon, but still managed to see several temples by nightfall, because my daughter had pre-booked guide, driver and van for the seven of us – surely the ultimate way to see the area. If you don't have a guide, you certainly need to do an immense amount of reading beforehand to make sense of what you are seeing.
On our first day in Siem Reap we visited, among others, the fascinating temple of Banteay Kdei, a labyrinth of buildings that open up one after the other just when you thought you'd reached the end. This place is famous for its dancing girl wall carvings.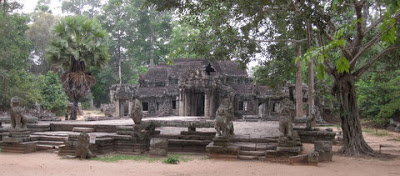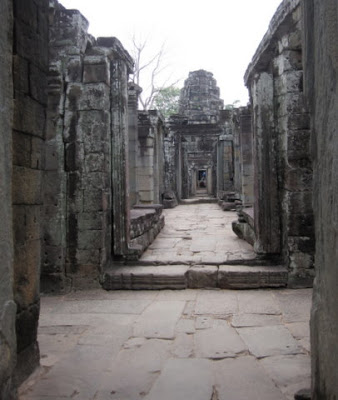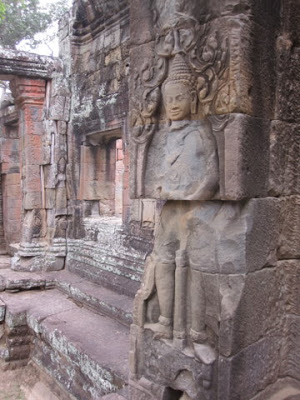 The first thing you have to understand…
…about "Angkor Wat" is that it is just one temple. People say, "We are going to see Angkor Wat", but in fact what you do is go to Siem Reap and see dozens of temples (there are something like 200 of them around). Most of them have at least one different thing to offer of interest that the large structure of Angkor Wat does not. They are all from different periods, built over a period of five hundred years or so when the Khmers were the on the top of the heap in a cultural and empire-building building sense.
The era ended when they moved the capital from Angkor Thom to Phnom Penh in the early 15th century, possibly because their agricultural system was inadequate for the population at a time when they were being constantly raided by the Siamese.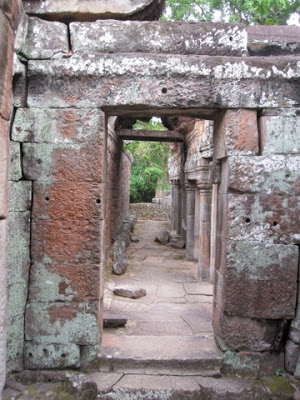 The second thing you have to understand is that …
…many of these temples were not finished, as the current monarch had different plans to the previous one. Not all were built as temples to the same thing – it all depended whether the guy in charge happened to be Buddhist or Hindu. Nowadays, as the country is overwhelmingly Buddhist (odd, then, that the Khmer Rouge were the very antithesis of Buddhist philosophy, the most vicious anti-religious killers of anything and anybody), you will find present day Buddhists worshipping inside these temples today, even when they may be surrounded by Hindu icons.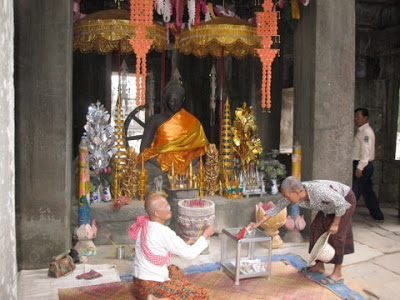 Granddad and grandson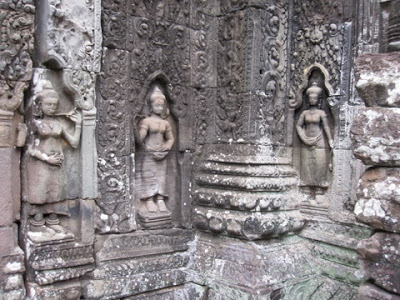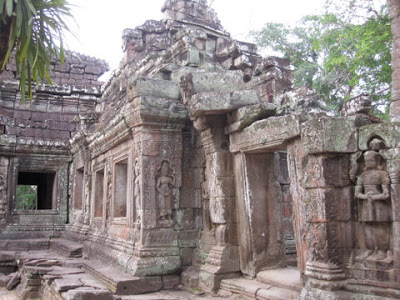 The third thing you have to understand is that …
…some temples are surrounded by walls, which enclosed a huge area of which only part was the actual temple. Other essential parts were the library, or even multiple libraries (separate for monks and commoners), armories, places for dancers and for warriors. Wooden buildings that housed these populations have all gone; only the stone public buildings remain.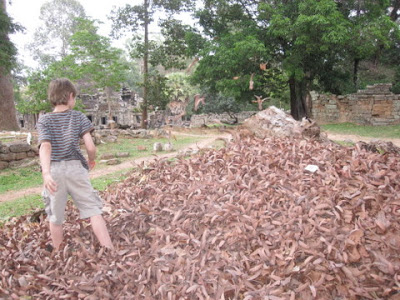 And when you get tired of temples, there's always leaves.
These leaves are from dipterocarps, their winged seeds designed to spin down like torpedoes.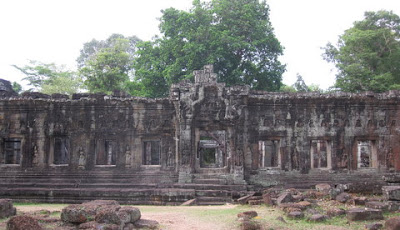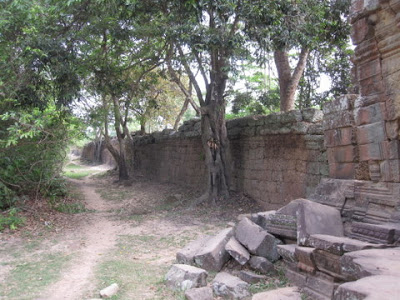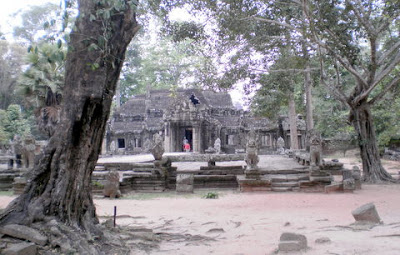 The fourth thing you have to understand is that the problem of restoration – or even of just managing the status quo – is way beyond the ability of Cambodia, and even with UN supported projects it's an uphill battle. Nature loves to encroach, and time tumbles even things built of stone.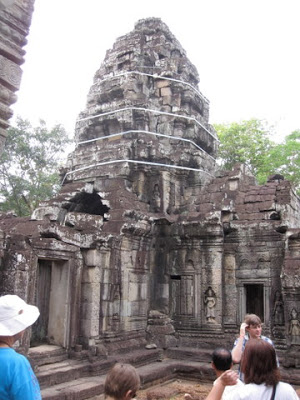 Note the way the stones have been tied together by restorers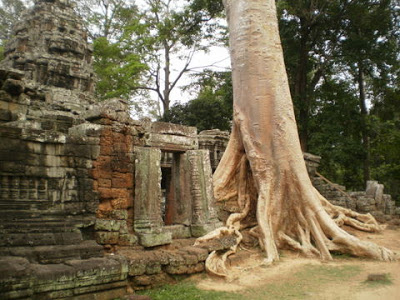 Note the way the roots wind their way through the ruins…