Take a look at my last blogpost first, if you haven't seen it.
I have two species of tailorbirds that nest in my garden. The fleeting glimpses I've caught of the owners of this one indicate it is the Common Tailorbird, sometimes called the Long-tailed. The other species is the Ashy.
I took these pictures at dusk – I waited to make sure the builders had gone for the night, as I didn't want them to abandon the nest because I was too close.
The entire nest can be seen between the dotted lines
It consists of three leaves, sewn together by the bird's needle – its beak, using as thread anything wispy like tree cotton, thistledown or fluff. You can see the curve of the nest interior by looking at the line of stitches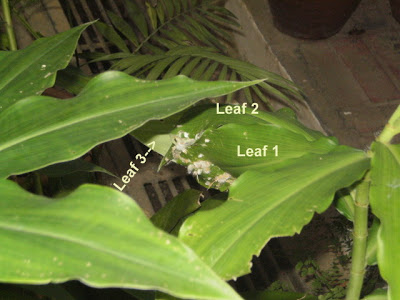 This is taken from the bedroom window, looking directly down on the nest at the backside.
The bird works mostly from the interior, poking a hole and then threading the fluffy stuff through to the outside. On the outside, it fluffs it out still more so that it won't pull back through, and the stitch is done. The leaves are still on the plant, still growing – the perfect camouflage, one hopes…