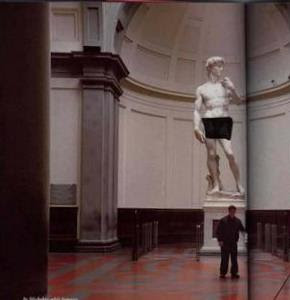 I thought the Malaysian censors had grown up a bit, and got over this kind of puerile childish emphasis on the HORROR of actually – omigod – seeing human genitals. Well, not real ones. Stone ones. Oops, no, not stone ones. Just, um, photographs of stone ones.
(I am SCARRED for life! I actually SAW a replica of David, same size as the real statue, quite, quite naked, when I was an innocent child of 14 or so. I have never got over the trauma! *Hits back of wrist to forehead at the memory*)
Seems the censors have the mental capacity of the average chickpea. K.H.Lee send this to me – apparently this is how the December issue of National Geographic arrived to Malaysian subscribers. No, David is not wearing a lap-lap. That's just the censor's ink.
Malaysians, please do not travel to Europe. You will never survive the trauma of seeing all those naked statues in public places – you know, like on fountains, or on parliament and government building facades. You are warned!
Oh, and someone really ought to mention to the censorship people that the more you cover something up, the more curious folk are about what you have to hide. How many kids, leafing though Mum and Dad's National Geographic, are now going to go to the computer to see what was really hidden under there?
BEWARE. READ NO FURTHER UNLESS YOU ARE OVER 65 AND HALF-BLIND. DO NOT SAY WOU WEREN'T WARNED. YOU WILL NEVER BE THE SAME AGAIN.
And here, for those of you who have a high threshold for life-changing trauma, who really think they can stand the horror of seeing part of the human body as portrayed by the greatest of sculptors, or if you subscribe to National Geographic in Malaysia, is what you were missing…