You all know that I work hard, right? And I have a boring job where nothing ever happens…
Like on Monday. I flew out from Kuala Lumpur to the eastern coastal town of Lahad Datu, Sabah. There we were met by a 4WD from Borneo Rainforest Lodge, Danum Valley…
Which is one of my favourite places ever. And it is in the heart of Borneo.
So we are driving along when a 3 metre long King Cobra crosses the road in front of us. Our driver, Calixtus, stops the car. And while we are looking…
…a Crested Serpent Eagle flies down, legs outstretched to grab it. The snake zips away like it was pursued by death – which indeed it was. The eagle misses. It sits in front of us on the road, disgustedly shaking his head.
We wait until it decides to move so we can drive on.
And some time later, after we've collected a few brilliant bird sightings – pair of Rhinoceros Hornbills, a family of 7 Bushy-crested, a Wreathed and a pair of Black Hornbills, a murder of 7 Slender-billed Crows – we see this:
(So I was excited, ok? You try to take a photo out of a car window in a hurry with a digital pocket camera!)
The female crossed the road first, and the male orang utan wasn't going to leave her, so he hurried in pursuit.
But hurrying is tiring…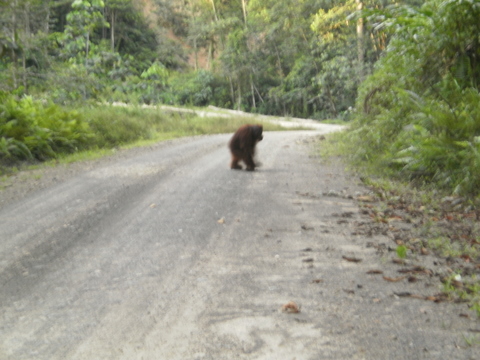 After that there was a scatter of Bearded Pigs, a full grown Sambar Deer, another lot of panicked pigs, and finally we were there, just as the granddad of all tropical downpours decided to pour down.
We had arrrived. As I say, it's a hard life…