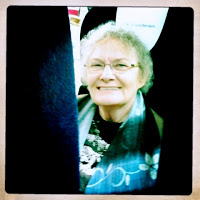 Above: journey started in the train from Cardiff to Paddington. Snapped on an iPhone by Paul McGuigan from the seat in front.
Below: sunrise over India. Actually more spectacular than this because the dark clouds were alive with lightning flashes…of course, every time I snapped, I missed the lightning!
Below: Early morning light over Sri Lanka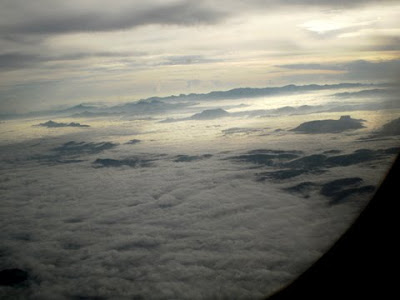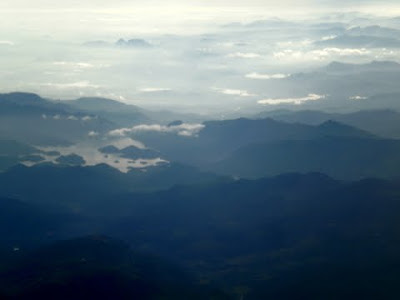 Had 12 hours sleep last night as I did not sleep more than half an hour over the previous 33 hour period! Which I reckon is the best way to deal with jetlag anyway.
And guess what? We were robbed last night. Someone broke into the yard and then into the car. They pinched our Touch 'n' Go card, worth 15 RM, which had about 6 RM on it – about US $6 altogether, plus minor damage to the car. Husband woke up, but didn't see anything. (Our house is comprehensively armed with an alarm system – even the ceiling! – but the car alarm was not on.)
For people coming this way: Crime is rampant in Malaysia because of the huge proportion of drug addicts in the population. Beware. You are far more likely to be robbed here than in London or New York, and the robbery might be with violence too. Take precautions. And here's an odd fact – it is the Muslim males who are the vast majority of addicts here. I wonder why?