.
Oh, wow – look what I found in London: I have my own shelf tag!!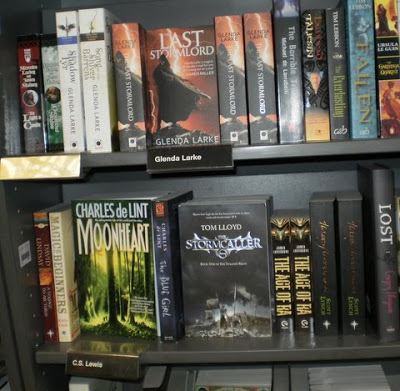 And there was a new online review today:
"The 'poor child destined for greater things' scenario may well inspire a weary groan from the veteran fantasy reader, but Glenda Larke's The Last Stormlord proves there's life in the old idea yet. Not only does she spoil us with two impressive protagonists (brothel maid Terelle and Gibber boy Shale) instead of one, but the struggle towards their destiny takes place in a world as harsh and uncompromising as any of Steven Erikson's severe settings."
…
"One of the novel's real strengths is its well-developed, intimate protagonists. Shale's transformation into Jasper Bloodstone is particularly enjoyable and Terelle's journey of self-discovery rarely loses momentum. High Lord Nealrith, Taquar, Davim and Russet work well as the supporting ensemble, framing the protagonists and adding extra layers to the youngsters' complicated journey into adulthood."
You can read the whole thing at Total Sci-fi Online.
And now I am off to Devon to meet my agent, first time in 5 years…
.