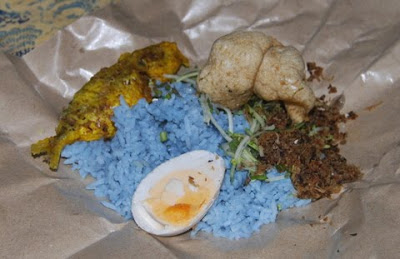 And you had something boring like fried eggs for breakfast this morning?
This is what was on our breakfast table. It's a Kelantanese dish (Kelantan is one of Malaysia's northern peninsular states, known for its good food).
It goes by the name of Nasi Kerabu, which translates as Salad Rice. And a very complete meal it is too, all wrapped in waxed paper and costing just US$1.00 in our local open market down the street.
The rice is coloured with the juice of a common wayside flower.
There's a small fried fish flavoured with tumeric, half a salted duck egg, some prawn crackers some coconut fried with spices, some green sprouts.
So what did you have for Saturday breakfast?