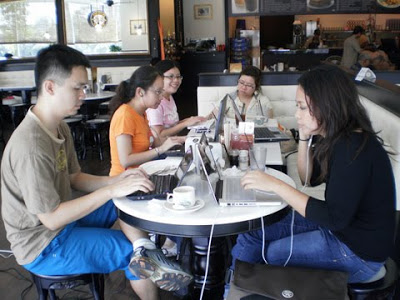 Hard at work!! (as the morning wore on, another three people came…)

On Saturday morning we had a write in at a coffee shop in Bangsar. Good fun to meet fellow NaNoWriMo folk. Most of whom did more writing than me… I was too busy making everyone's aquaintance. Still, managed 1,000 words in spite of the chatting.
I have not quite made my 2000 words a day goal. If I had, I would now be on 18,000 as day 9 comes to a close. Instead I am on 16,444 words – which is still above what is needed for the NaNoWriMo target of 50,000. But my target is 60,000 words. Minimum. Got to work harder!!
Inkygirl can be found
here
. Daily Diversions for Writers
.