And the clouds cleared briefly…Greenland below
As airlines go, Malaysian Airlines is one of the world's best – good legroom, good individualised entertainment, good food, good service. Although I do want to know why, when they give you a chunk of steak to eat, they also supply you with a knife and fork so fragile they would bend if you poked at melted icecream. The meat was tender, yes, but then so was the cutlery…
There was a chocolate dessert to die for out of Sweden though. And you don't often say that about airplane food, do you?
Greenland: summer lakes
If you discount the plastic tableware, I wasn't Noramlyed, not once. We arrived on time in Newark, New York, after 22 hours (via Sweden) in a full plane. Yay, MAS.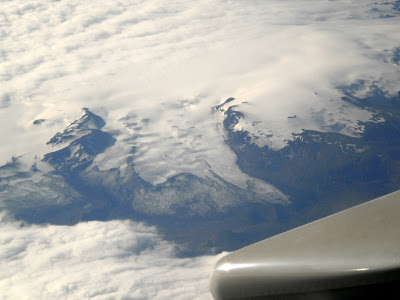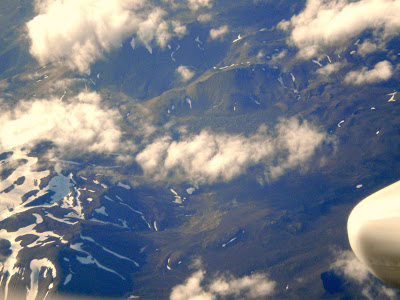 My first views of Iceland
.
Note the sheets of ice slipping out from between the two peaks.
For me, the most interesting bits were looking down on Iceland, which I had never seen before. Unfortunately, there was a lot of cloud, and more still when we flew over southern Greenland later.
Iceland: the range across the middle in the photo is topped with both snow and cloud. If you look carefully, you can see glaciers spilling down the slopes into a settled valley.
I still remember an earlier flight (alas, I didn't have a camera) when we had brilliant weather and I saw the brutal black cliffs of Greenland plunging down into the startling blue of the north Altantic. Dazzling white patches of huge ice floes and icebergs drifted on that deep untramarine…
This time the scenery was much more muted by cloud and haze.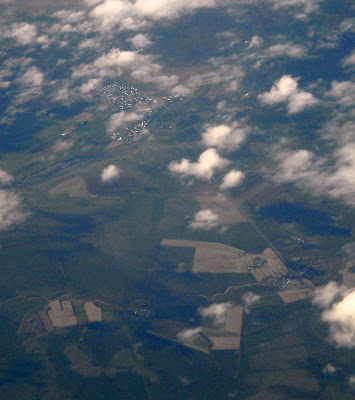 A town in Iceland, surrounded by farming land
And did I get much work done?
No, not really. About one quarter of book two readied for copy edit is all.