We had a dear friend visit us from the UK, which is what prompted us to take a few days off. It started with a long trip across Johor state to the small town of Mersing, where we were to take a ferry. And, of course, as she is a durian lover, one had to stop along the way to buy the world's smelliest, prickliest fruit. Not to mention the mangosteens that are always in season at the same time.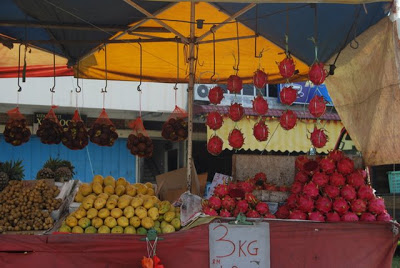 And as my friend had never seen dragon fruit (above on the right) plants , we stopped to show her, below.
Dragon fruit in flower above, growing in rows propped up with pieces of wood, below.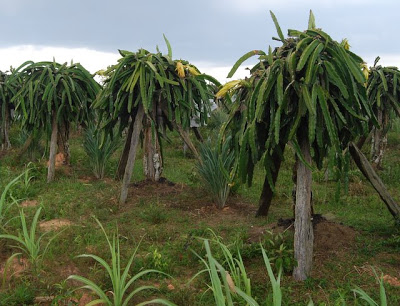 And then, because my friend and I are birders, we stopped at some rice fields to take a look.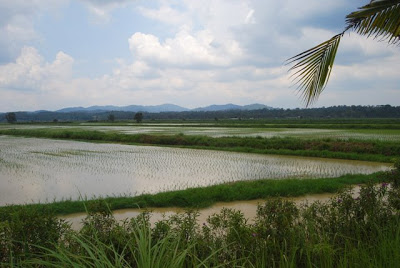 And came away with some nice "ticks" in the notebook: flocks of bleached-white Little and Intermediate (Plumed) Egrets out of season (they should be winter migrants), the Cinnamon Bittern and the duller Yellow Bittern, the immaculate Red-wattled Lapwing, Purple Herons with their ungainly necks, and lots of other interesting stuff.
And the forested parts of the road were lovely. Much better than the endless ugliness of Kluang town… Oh, and my husband says, if you want to get lost, try to follow any Malaysian-made map. Much better to follow the signs.