Borobudur was obviously the highlight. I shall leave that to last.
Other highlights – an active volcano, Merapi. Actually my fourth, the others being Ruapehu, Anak Krakatoa (seen from a ship) and Vesuvius.
Here's my first glimpse – note the steep slopes. It has grown some 700m in 40 years… A lot of these photos are taken from the tour bus, so there are window reflections…
I guess the biggest surprise for me was how green everything is. As Java is one of the most densely populated places on earth, I expected high-density living to be more obvious, but that wasn't the case. Seen from the air, there are still trees everywhere (although thick tropical rainforest appears rare) and of course lots of ricefields.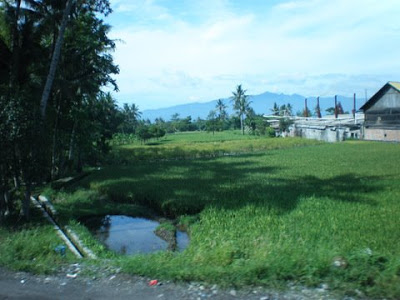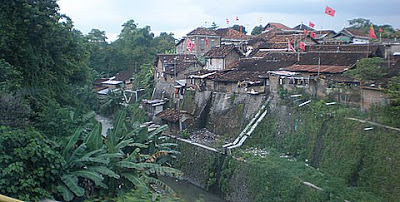 Even in the city, many streets are tree-lined and gardens grow.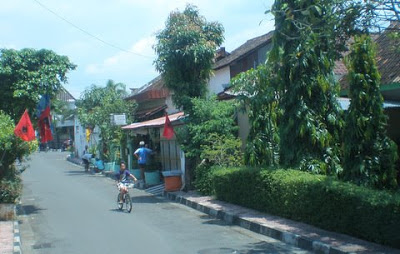 The city does not look poverty stricken or dusty or dirty – so toss out all those pre-conceived ideas – just pretty much like Malaysian towns, I suppose, except a little more unregulated perhaps. More motorbikes. And beca (pron. bay-cha) aka trishaw, and horse-drawn carts.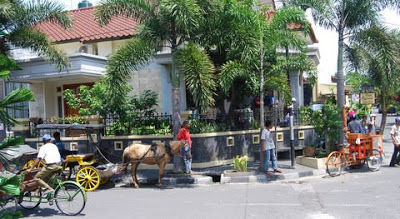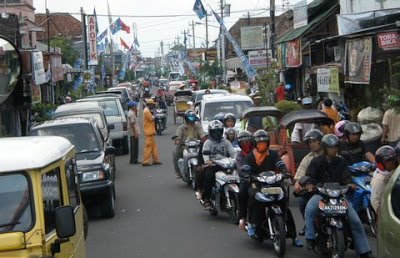 And the flags? It is coming up to the Presidential elections, so political flags were everywhere.