If that means something to you, you are from Western Australia. It means something to me, painfully still. This photo is taken along a country road in the wheatbelt country.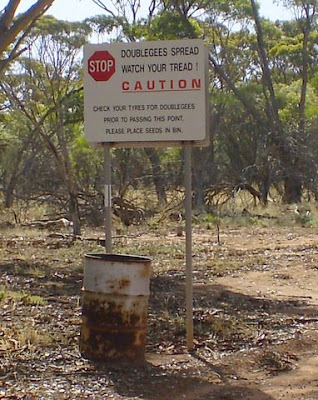 The sign asks you to check your tyres for double gees and to put them in the bin (they are trying to wipe the damn things out). If you are from the Eastern States, you may know it as three-cornered jack or Spiny Emex.
That sign took me back to the barefoot kid running around the farm – darn, those things hurt. They are like army caltrops – no matter which way they lie, one of those damn thorns points upwards, although I'm not sure how they do it, because they only have three points, not four.
The incredible thing is this: they are actually from South Africa. Some idiot, a long time ago, deliberately introduced the plant ….. as a vegetable.