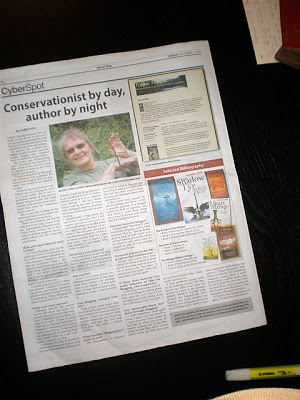 This post is a long one, so I won't post tomorrow. I have a paper to write for an ecotourism conference instead… Besides, I am sure that most people will have something else to think about tomorrow. Right? Yanno, like elections?
The last week has been kind of peculiar – but the good news is decidedly good and outweighs the bad.
Really, really good news:
I can't tell you. Yet.
Really, really bad news:
Discovered bad infestation of termites in the wood flooring of the family room. Much damage and very difficult to eradicate.
Encouraging good news:
Had a lovely email from a reader back in Western Australia who said,
"As for the Mirage series … I have read many series now from a wide variety of authors and this really hit the mark with me. One of the best reads I have had for a long time…"
Somehow it always means more when it comes from my home state. Thanks, Tony.
Scary bad news:
Found out someone tried to break into my next door neighbour's house while we were in Fraser's. The thievery continues unabated. Luckily they didn't succeed.
Warm and fuzzy good news:
From great Australian writers and friends who lend a helping hand to their fellow writers with no thought of rivalry. I love my fellow Australian genre authors. You couldn't ask for a nicer bunch.
Trudi Canavan's blog sends more people to my blog and website than any other personal site – and on a regular basis, too. Thanks, Trudi.
Jennifer Fallon's blog this month was singly responsible for one of the biggest spikes ever in my blog hits.
Russell Kirkpatrick – well, actually he's a New Zealander* but he's such a great chap we tend to think of him as Australian – touched me with a comment in an interview. Listing which authors he thinks are really worth reading, he named C.S.Lewis, Julian May, Dan Simmons, Alasdair Reynolds, Guy Gavriel Kay, Lois McMaster Bujold, Terry Pratchett…and me. He said that I write
"with unparalleled acuity, and she knows how to make the most of a novel-sized idea.
It's a tragedy she's not more widely known
."
Thanks, Russell. I am totally humbled at being up there with the names you mention.
Marianne de Pierres has put up the first chapter of Heart of the Mirage on her "Parrish's Patch" – do check out this site, and Marianne's kick ass books if you haven't already done so. What a great lady.
And my pal Karen Miller has been having a ball as a guest at a con in France…she works incredibly hard and deserves the break.
Worryingly bad and sucky news:
Actually I shall blog about this separately, probably over the weekend. It is to do with yoga. Yep, you'd think that would be harmless enough, wouldn't you? Wait and see…
Happy-making good news:
I was approached to do an interview in the afternoon newspaper, The Malay Mail, mostly about blogging – and bless their heart, today they did a magnificent spread (see above pix) – a whole page! – with a great advert for my books 'n' all. Thank you Gabey Goh!
Aggravating bad news:
Our water woes continue with unpredictable cuts, dirty water and lots of air blocks.
Lovely look-forward-to good news:
Younger daughter Nashii is coming to visit this month.
And just plain NEWS:
Which will be either very very good or utterly terrifying: we will shortly have a new President of the USA.
And by the way, did you all see that interesting blog post comment on one of my posts here on why some people still vote for a Republican candidate?
_____________________
* To any Americans or Canadians reading this, just think Canada-US to explain the NZ-Oz relationship…