Around about this time of the year, I write a blog on this subject which goes something like this:
Many of you found my blog because you are readers, or both writers and readers. In other words, you have a vested interest in a healthy publishing industry producing lots of wonderful books, whether they be e-books, paper books, audio books, or whatever.
This will only happen if you pay them money. Libraries are great, and so are secondhand book stores. BUT, they don't bring money in to those people who actually write or produce or print or record the books.
For them to benefit, you have to actually give them money.
And the Christmas/holiday season is a great time to do this. If you support the industry, then you will get more great books to read in the future. If you are a writer, then publishers will have more money to pay you an advance…
This time of year is also a great time to introduce others to reading for pleasure. It is a great time to give kids something that has been a source of great enjoyment to you: a book. It is a great time to share your discoveries with someone else.
Perhaps you remember the first time you discovered – as an adult – the wonder of reading a fantasy or science fiction book and realised that those great challenging stories are not just for kids.
Right now, times are dark, and this is where fantasy comes into its own: escape this world for another. Get away from your troubles into a world where ordinary people can be heroes. Give others books and a way to leave the real world behind over the holidays.
If you don't know what to buy, well, try a book token or gift certificate, available from any bookstore, which can be ordered and delivered to your recipient online.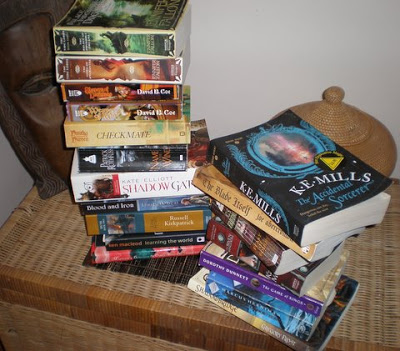 Pix: Books I have read this year, or will be reading soon.
We read to know we are not alone.
— C.S. Lewis
The greatest gift is a passion for reading.
— Elizabeth Hardwick
Outside of a dog, a book is a man's best friend.
Inside of a dog, it's too dark to read.
— Groucho Marx
I find television very educating.
Every time somebody turns on the set,
I go into the other room and read a book.
— Groucho Marx