Back in the early 90s, my husband and I were in a place Ghardaia, in the Saharan desert of Algeria, a town founded in 1048 AD. It was here that I found the idea for part of the Random Rain trilogy, in the way that these desert people found water for their homes and date palm groves. We were there in December, I remember – and they were receiving their first rain for the year.
Yesterday, in the wadi that cuts the town in two, a flash flood killed 30 people and up to 600 houses were destroyed. Oh dear, sometimes I think what I write is prophetic. (Remember The Tainted, which was published a month or two before the Asian Tsunami?)
When you read Book 1 of Random Rain, Stormquest, remember the people of Ghardaia and the life they lead, balanced between drought and the need for flooding. Today I am thinking of them, their hospitality, and their beautiful town.
And last week we were in Yosemite. Now, if there is anything one knows about Yosemite, it is the famous Yosemite Falls, right? Well here it is.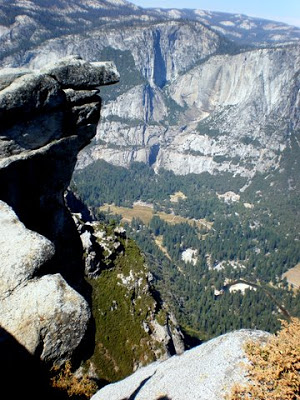 That's right – no water. End of summer, you see. Sigh.