If you don't know what I mean by the heading of this post, drop by Jennifer Fallon's webpage here and take a look at the Russian cover of her book Harshini. Then look at the Russian cover of The Tainted, Book 3 of my Isles of Glory trilogy, below. In Russian, the title means I believe, "Desecration".
See a resemblance?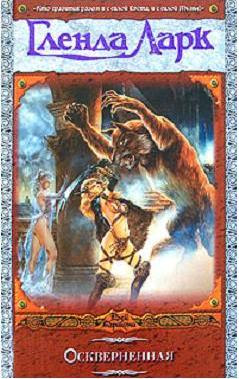 Do I mind? Of course not; my cover has several bonus additions, after all – more than a hint of bondage there, I think, not to mention a rather large cat, neither of which I actually remember being in the book.
(Remind me someone – was there a sabretooth somewhere that I've forgotten about?? To be quite honest, I do tend to forget all about the last book once I start working on a new series, let alone the series after that…but I am damned sure Blaze wasn't tearing around dressed like the star attraction of a brothel for men with, let's say, interesting tastes. Oh, and there wasn't a pole dancer in the book either. But then – there also wasn't a pole dancer in Harshini… )
I really, really love my Russian publisher. They are such fun people. And this cover is definitely better than the Romulans on the cover of Book Two (see the sidebar).
So, to my Russian speaking readers: enjoy! But please don't expect bondage, pole dancers, or very large cats.