This post is really for readers who have never been to Oz.
Most important thing to realise: Australia is a BIG place.
And Western Australia – where I am from – is the biggest state.
I am now staying with my sister, Margaret, in Fremantle, which is the port of Perth, the capital.
And we are going to travel to Kalgoorlie on the first leg of the journey, which is some 595 kms or 370 miles.
The full distance to our destination, the Eyre Bird Observatory is over 1200 kms one way – over 746 miles.
Above map pinched from here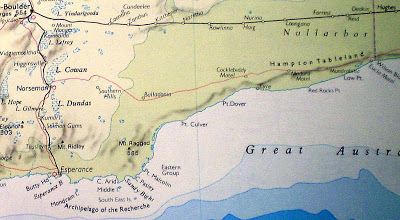 Find Esperance on both maps to orient yourself, and then trace on the bottom map our intended journey to Eyre, just to the SW of the Cocklebiddy Motel where I once stayed – back in 1973.
After Kalgoorlie we will stay at Norseman, then Cocklebiddy, then Eyre (2 nights), then Esperance, the Recherche Archipelago, and then back home. (Clicking on the bottom map will enlarge it).
Will I be doing any blogging? Well yes – when I find an internet cafe!
Will I be doing any writing? Maybe. We'll see.