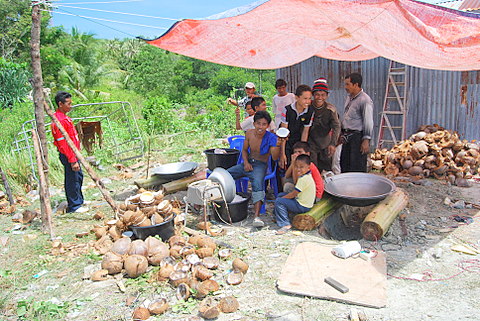 LIFE ON BANGGI ISLAND (Sabah).
Festival fare – a sticky cake called dodol.


The first thing you have to do is start grating the fresh coconuts with the aid of a small motor and a grater mounted in the middle of a basin. And be careful not to grate your fingers. (See the bare chested young man in the first photo, seated in front of the basin and holding up a half coconut.)
The ingredients are coconut milk, coconut palm sugar or cane sugar, flavouring supplied by leaves of screw pine (pandan), and glutinous rice flour – all of which has to be stirred over an open fire for eight hours or so. As the mixture cooks, the mixture gets harder and harder to stir…
Note the pit dug for the fire and the large wok placed on banana stems.
Makes baking a Christmas cake look simple.