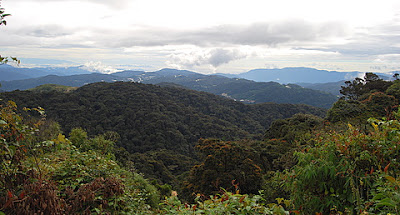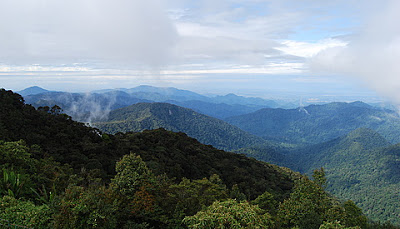 Peninsular Malaysia has a backbone. It is called the Titiwangsa Range. It starts up north on the Thai border and travels south, ending up in the state of Negri Sembilan, south of Kuala Lumpur.
First two photos: what the Titiwangsa Range can look like.
It is very, very old. Which means its foundation is riddled with the geological equivalent of arthritic joints, sagging muscles and poor skin tone. And just to add insult to age injury, it is situated in a place of high torrential rainfall all year around.
When we went to Camerons, we took what is known as the Pos Slim road, or the Simpang Pulai road. It is new(ish). We (the environmentalists of the nation) warned what would happen, but politicians and developers know better, naturally. Or unnaturally.
Photos 3 , 4 and 5 were taken from the road visible in photo 6. Photo 6 was taken from the top of the landslide visible in photo 5. If you look very hard in Photo 5, you will see trucks and heavy machinery – tiny little dots. this gives you an idea of the scale of this landslide. The road is at the apex; the slide goes on for hundreds of metres.


The road has already had numerous landslides, and someone is making a fortune from the continual repairs, a cycle which inevitably destroys more and more of the highland rainforest, resulting in everything from river/dam siltation to coastal pollution affecting fish stocks.
The road is also a disaster waiting to happen. Sooner or later, someone will die up there.
Sooner or later a landslide will collect a car or truck or two. It's just a matter of time.
Take a look a these photos, and wince.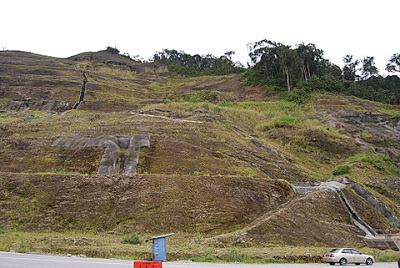 No such road should ever have been built.
Early roads were built by following contours and using pickaxes and buckets, and they have survived although even they have problems (compare the new and the old roads up Fraser's Hill and see if you think the new road is an environmental improvement or an environmental disaster).
In this kind of terrain, only tunnels and bridges should be an option, and even then one wonders. Why won't the ignorant listen?
The last photo shows the Australian weed (acacias) having a field day on the barren slope that once looked like photo 1. In the distance you can see the gash cut through the land like the parang* slice of a giant, who has gouged the land in malicious glee.
*machete