No, not really. But there was a typhoon to the north and heavy seas when we headed away from the Semporna Islands towards the south. And something went wrong with one engine, and then the other. We ended up bobbing around in the Sulawesi Sea like a coconut.

When the engines did work, we were slamming into waves and getting thoroughly wet. We ended up heading into Mabul Island, instead of going straight to Sipadan. Which was a bit of a "let's see how the other half lives" exercise.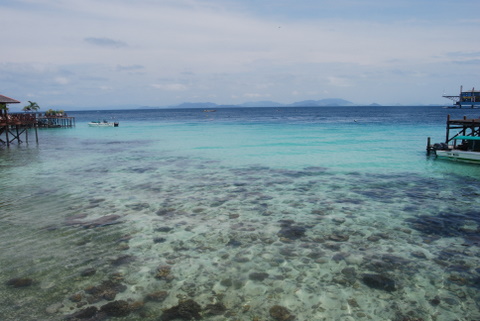 The resorts were built here after the Filipino pirates kidnapped divers and staff from Sipadan Island. Sipadan no longer has a resort; instead it has an army presence. Mabul already had villagers and is close to the mainland, and was thus considered a safer option for tourists.
And what you ended up with was what you see in the photos.
My question is: (1) What do those people in their fancy chalets think when they walk through the village? And (2) what do those villagers think when they walk through those fancy resorts? But, ah, maybe they aren't allowed to…
One wonders.
P.S. I can't afford to stay there. If you look carefully, you will however see me trying to pretend I belong (in the red Tshirt) . Rather difficult, seeing as I was fully clothed but dripping wet at the time.
P.P.S. Doesn't the sea look calm? But the moment we set out for Sipadan again, we had to turn back when we hit the open sea. It was rough. Noramlyed again*.
P.P.S. Remember that any of these blog photos can be enlarged by clicking on them. Note the flowers grown by the villagers in the most difficult of places to grow anything besides coconuts. The island is tiny – we walked around it, ambling, in half an hour.
*A term invented by my daughters long-suffering men to cover everything that happens to you when you travel with the Noramly family.