I see that the cover of The Shadow of Tyr is already up on Amazon here, so I guess I can post it here too. I love it, love it, love it.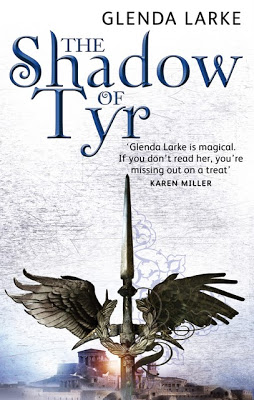 Another great cover from Larry Rostant (the cover artist) and the design team at Orbit, who produce the best covers in the business, bar none.
And there on the front cover is a terrific quote from another of my favourite authors of unputdownable books. Kate Elliott did the one for Heart of the Mirage, and now I have Karen Miller – love these guys.
And just look at the art work. We have the Tyranian city of Tyr in the background, but the cracked sky above is that of the Mirage.
And there's the winged spear and symbol of Tyrans – but look, the shadowed pattern to the right is the pattern of the Mirager's sword (see the cover of Heart of the Mirage). And if you look carefully, you will notice that the wing to the right is dark and broken and drooping. Tyr is in trouble – Ligea is on her way to extract revenge for the wrongs done to her….
That is one heck of a good cover.
And just to add to my cup of Amazon goodies, I see that they have put up the first advert for the French version of The Aware here. No pix as yet, or release date, but ah, those magic words: GRANDS FORMATS.
Yep, my first trade paperback (i.e. large size), and it comes from J'Ai Lu…
C'est formidable…
The title? CLAIRVOYANTE , book 1 of Les Iles Glorieuses
Life is so exciting. And today I am off to tropical isles…more about that in another post if I have time before I go.