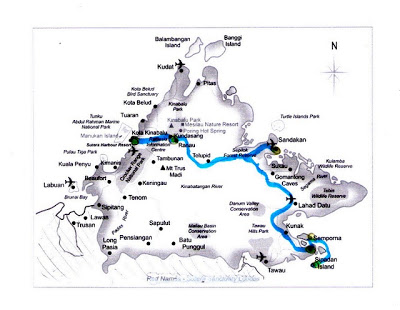 Leaving for the islands in the next hour. Well, actually I have to give the workshop in Kinabalu National Park and World Heritage Site first. We will be staying in the Warden's cottage for 2 nights, and then on to Sandakan for one night, and Semporna the next day.
Then three nights in the islands – Bodhey Dulang Island (literally Water Tray Island) followed by Sipadan. Unlike the normal tourist these days, we will be staying overnight at the latter dive site. Especially interesting to me because of the birds… And the snorkelling. I don't dive and have never had any wish to learn.
The blue line is our route across North Borneo…and to think when I first came here, too many years ago to count, there was no way of driving across the island.
I will be back next Tuesday, and may manage to get online in between whiles, but don't bank on it.