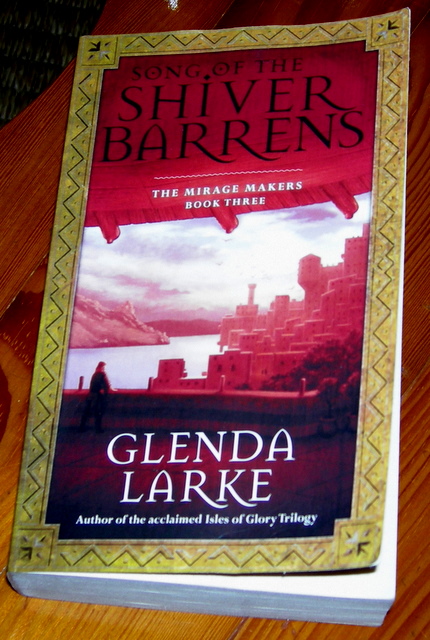 Well, at this one, I saw my latest book for the first time in its finished state…
Held it in my hand.
Drooled.
Felt relief.

It is finally birthed and about to take its first hesitant steps into the world. Make sure it is welcomed, ok?
SONG OF THE SHIVER BARRENS
should be available sometime next month in Australia, so now is the time to order it from your friendly local bookseller.

But that wasn't the only lovely happening.
I had a surprise in my con bag, and I couldn't resist taking a photo of it, back and front.
I must write to the Voyager publicists and say thanks.
A real rush to find myself spoken of in the same breath as Anne Bishop and Jenny, and with Trudi making nice comments.
But then, Trudi didn't know me when she said that.
Now she's more likely to say Glenda, rather than Glenda's books, is the culprit that keeps her up late.

There's now a little matter of room parties and chocolate and talk and gin, you see…