Sometimes I am the alien. The creature that doesn't belong.
These photos were taken on the way back from Imbak…
The first three were taken at our first stop back in, um, civilization, in a village of a few houses along the road at a bridge.
The first photo is a restaurant alongside the road. It was also a home, and a shop.
Note the woman doing the family washing, and the clothes drying under the roof.
On the back left is their sundry shop, where we buy some drinks. On the back centre right is the doorway to the bedrooms, with a cloth door hitched up to let in the breeze.
Here are the members of our party drinking cold cans of coke and seven-up on the other side of the same open room – the "restaurant".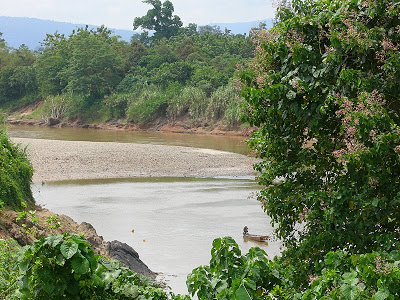 This was the view from where we were sitting. Note the boatman in the river.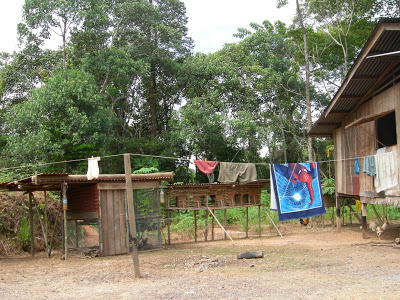 This is a photo taken at one of the many gates we had to pass on our way to Imbak Valley. Gate keepers live in huts beside the road, maintaining the check point – I assume to make sure that the timber trucks passing by are legal.
I found this one interesting because it was a juxstapositioning of worlds …the hut to the right, the chicken coops there in the middle and on the left (after all, leave your chickens out at night and they could be eaten by anything from a clouded leopard to a python), a couple of what must surely be fighting cocks with their legs tied by string to a couple of posts (cock fighting is illegal…of course – yet another example of a Malaysian law that is rarely observed), and the washing on the line.
Which included a beach towel, with Spiderman on it. Hollywood in central Borneo.