Books
The three books of The Isles of Glory trilogy have an island setting—an archipelagic world that is on the threshold of discovery by outsiders, at a time when the internal politics of magical forces, military might and religion all threaten to wreak fundamental changes on the eleven nations that share the string of islands.
Eleven nations…
Changes are in the wind…
or is it perhaps twelve? And just who—or what—are the mysterious alien race called ghemphs?
Maps
The maps that appear in the books were created by Australian artist Perdita Phillips. Click on any of the images below to see a full-resolution version of each map.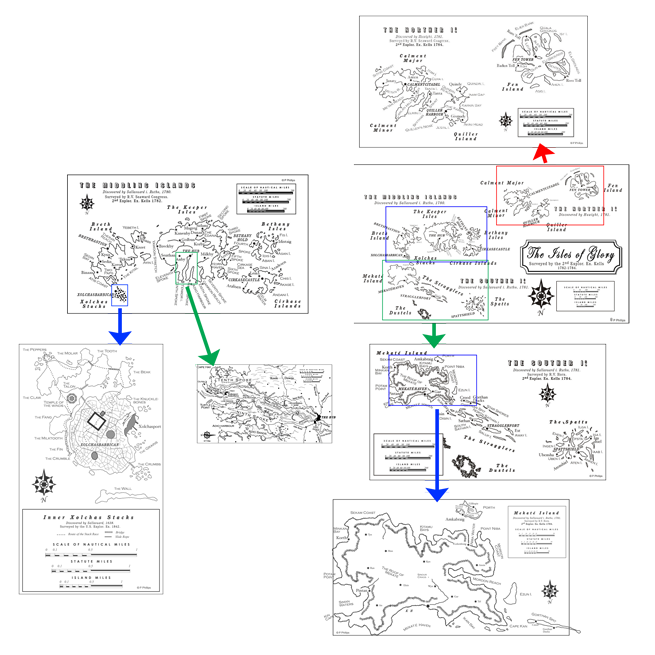 Reviews
Sharp intelligent fantasy for those who like ideas mixed in with their action…

Larke obviously relishes world building, and the cultures she creates are so original, in comparison to many fantasy worlds, that the whole series has a very fresh feel to it…

… It is very interesting to see a little more of the different cultures as our heroes move from island to island. I really enjoyed these aspects of The Isles of Glory.

I was genuinely surprised by the ending of Book Two (Gilfeather) as well, another experience I always enjoy…

The Tainted … brings to the fore a narrative thread which has been a clever and sometimes amusing framing device in the earlier books…

(The writing style is) always very smooth and readable, and punctuated with a dry wit that helps lighten much of the darkness of the story. This is sharp intelligent fantasy for those who like ideas mixed in with their action.
Kate Forsythe, Aurealis Magazine, Issue 37, March 2007
I'm really not certain how to begin praising Australian writer Glenda Larke's Isles of Glory trilogy. Do I begin with her detailed and intricate world-building? Her skill in characterisation? Her original take on the whole business of magic? Her seamless incorporation of highly intellectual explorations of the psychology of perception, the social and personal functions of religion and the dynamics and consequences of colonialism into a damned jolly action thriller with a truly kick-ass, take-no-prisoners swordswoman? The structure of the trilogy that permits not only multiple perspectives on the action, each from characters with their own culture and personal philosophy, but also a metanarrative from another culture altogether? …
Larke's novels are deceptively easy to read and enjoy, but so difficult to talk about. And they're brilliant.