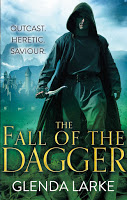 A review from a book review site:
Taken as a whole, the Forsaken Lands
trilogy is very good. Easily the most fun and engaging series I've read
in a handful of years. Larke delivers the goods on all fronts, and
has written a series that deserves a widespread readership. There's
something here for fantasy fans of every ilk, while feeling fresh and
new.
–From Ryan Frye at Civilian Reader
You can read the whole review at the link above.