THE DITMAR are reader voted awards, open to Australian authors/artists and voted upon by the Australia National Science Fiction Convention attendees.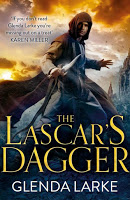 Last year's award for Best Novel was the plaque (see pix to the right), which was awarded to
THE LASCAR'S DAGGER,
the first book of the Forsaken Lands trilogy.*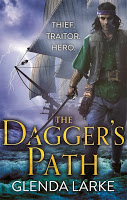 This year, Book 2 is up —
THE DAGGER'S PATH,
and it has been voted on to the short list of five books. The other four are:
Day Boy, Trent Jamieson
Graced, Amanda Pillar
Lament for the Afterlife, Lisa L. Hannett
Zeroes, Scott Westerfeld, Margo Lanagan, and Deborah Biancotti

My guess for a winner? I reckon it will be Trent's year this year, but we will see.
If you are attending the National Convention, or attended last year, be sure to vote.
And don't forget:
Book 3 will be long in just 8 weeks…
























*it tied with with Trudi Canavan's novel "Thief's Magic."