Dragon Wine Book 1: Shatterwing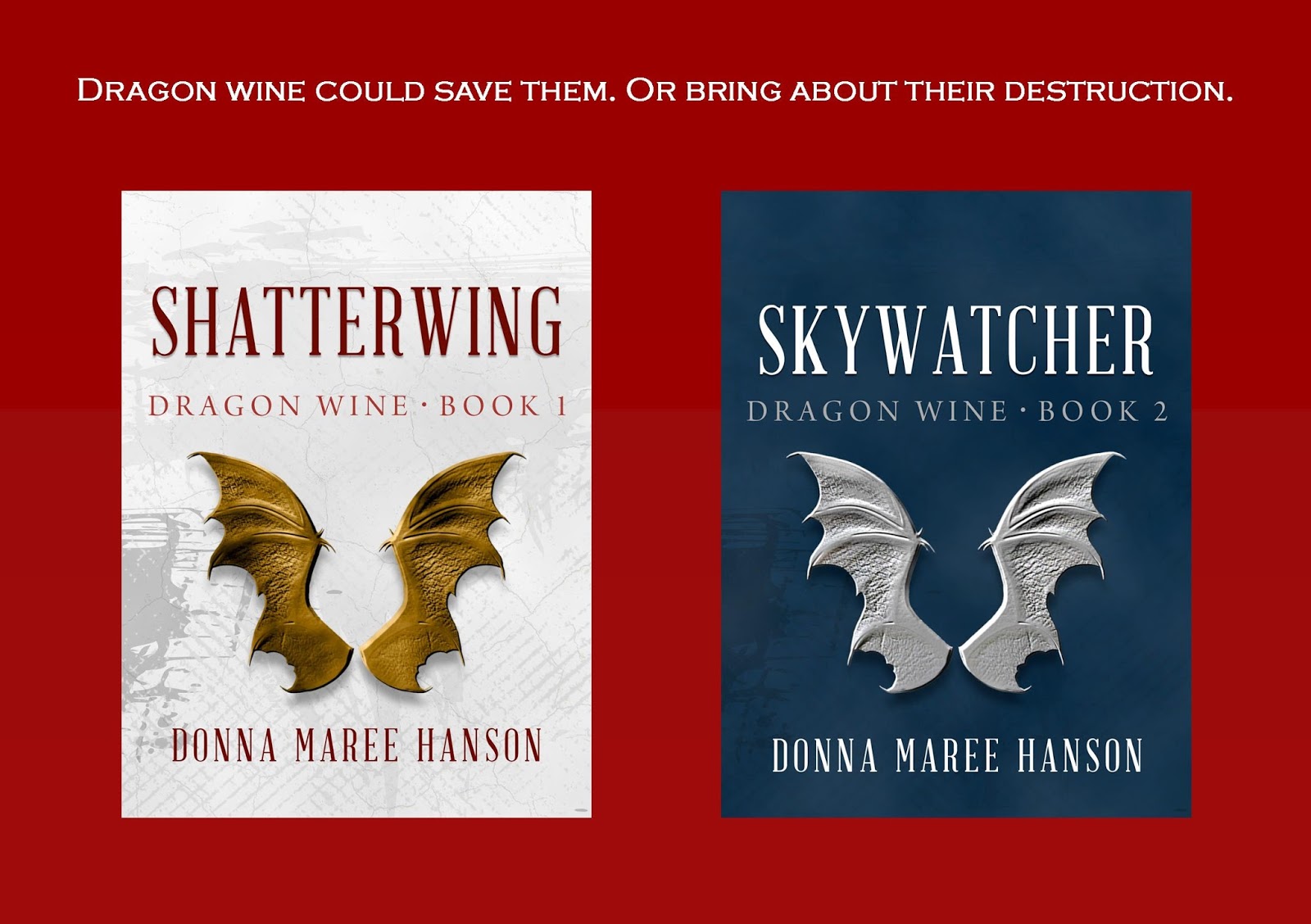 by Donna Maree Hanson
is free in e-book for a short time.
As part of spreading the word about Shatterwing, Donna is doing a blog tour and offering a give

–

away of a hard copy of Shatterwing.
Winners will be drawn from people who comment during the blog tour. So leave a comment here to have a chance

at winning

.
ABOUT SHATTERWING
Dragon wine could save them. Or bring about their destruction.

Since the moon shattered, the once peaceful and plentiful world has become a desolate wasteland. Factions fight for ownership of the remaining resources as pieces of the broken moon rain down, bringing chaos, destruction and death.
The most precious of these resources is dragon wine – a life-giving drink made from the essence of dragons. But the making of the wine is perilous, undertaken by prisoners. Perhaps even more dangerous than the wine production is the Inspector, the sadistic ruler of the prison vineyard who plans to use the precious drink to rule the world.

There are only two people standing in his way. Brill, a young royal rebel who seeks to bring about revolution, and Salinda, the prison's best vintner and possessor of a powerful and ancient gift that she is only beginning to understand. To stop the Inspector, Salinda must learn to harness her power so that she and Brill can escape, and stop the dragon wine from falling into the wrong hands.

Dragon Wine Book 2 : Skywatcher, the follow on book, is also available in ebook and print.

AN INTERVIEW WITH DONNA: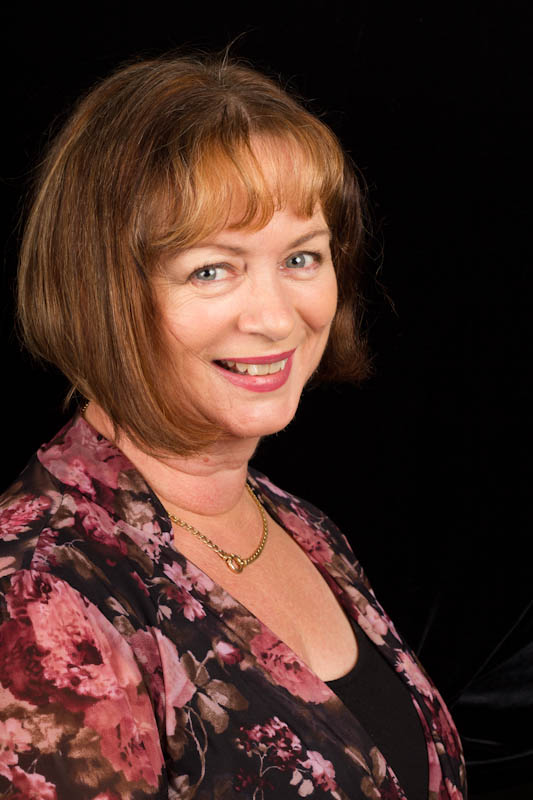 GLENDA

:

You had it tough when you were younger, yet you managed to build a successful career in the civil service. Now, though, you are concentrating on your writing. What prompted such a drastic career change?

DONNA: You are right. If I go back to my formative years I would never imagined being where I am now or even my journey. I had no ambition. No concept of the future except that I should be happy, that things should go right for me because I had a pretty crappy beginning. Somewhere along the line I realised it wasn't going to come to me

—

this happiness that I desired

—

so

I had to make it for myself. I was probably about seventeen years old, when I was unhappy about being considered stupid. I'd left school at 15, before finishing year 10. But I was very soon trying to get my school certificate by correspondence. I did end up doing that, and then going on from there. I did a degree in Economics at Sydney University while I was a single parent with three children.

I was an auditor in the Commonwealth Government, for many years. I also had a stint in the private sector. I got to about age 40 and was heading back to do more internal audit work and I thought to myself: "Is this what I want to do?"
The answer came pretty quickly that I wanted to write, so I did. It has been a big learning curve for me. I threw myself in and I wanted to conquer this writing thing. I'm making hats now and I realise that this is my modus operandi. I'm making hats like crazy because I want to learn and explore and that's what I did with writing. I've done a Masters in Creative Writing and in 2016 I am doing a PhD at the Uni of Canberra.
GLENDA: You have written books across multiple genres — including non-fiction! Who is your target audience for Shatterwing?
DONNA: Shatterwing is for lovers of fantasy, dark fantasy. Shatterwing is for people who like grit under their nails. Also, Shatterwing as a strong SF setting too, so it's for people who envision other worlds, alien worlds and their impossibilities. The story is also about survival, what it takes to survive and, ultimately, what is it about humans that makes us worth saving. It's not always as pretty story, but it is one that I'm keen to explore. And then there are the dragons!


GLENDA:
Shatterwing has a fascinating world with a fabulous take on dragons — yours are unique, which is quite an achievement considering how many fantasy writers have portrayed them over the years. Tolkien, Anne McCaffrey and Naomi Novak to mention a few. Where did the inspiration come from that makes your dragons so different and memorable?
DONNA: Thank you Glenda. Well if you must know I didn't read any of those. I did read Tolkien, but not The Hobbit (am currently reading it) so I approached portraying them in my own way. I wanted them to be different, from their origins to how they exist in the world. I can't say that I have never been exposed to dragon stories because I watch film, such as Reign of Terror (not such a great movie), but it was dragon filled, and there are others. I virtually grew up on Godzilla movies! I did research a little about dragons and I guess what struck me was how enmeshed these creatures were across a number of cultures that you could almost consider they existed in the past, in human memory.
Shatterwing is set on Margra, so not Earth, but there are humans living there. There were these creatures I called dragons. I did consider changing the name of them to something else, but in every way they were dragons so it seemed stupid to call them something else, so I left well enough alone.



G

LENDA

: You are also writing in

the

romance genre. What is the biggest challenge about romantic fiction, compared to fantasy?

DONNA: Ah there are definitely challenges! For me it is the emotional story of the main characters. In romance the evolution of emotions, from hate or indifference to love, for example, is the plot. The circumstances that cause the characters to attract, repel and attract again are just the means to get the emotional changes in the character. It's central, if you know what I mean. It is something I struggle with in writing romance.
I come from the SF and Fantasy side

where

it's the plot that drives the story and the characters. There may be romance in these stories but it's not the central component. The central story in a fantasy or an SF story could be saving the planet and then winning the man. For example, Martha Mayhem must win the war against the rebels and save the planet. She meets Captain Pacificus and they join forces and win the day. Martha also wins the captain. I'm not saying that characters and the character's evolution is less important in fantasy and SF. It is just that less time is spent focussing on the inner story of the characters and their love lives in comparison to the overall story. Well that's what I believe.

GLENDA: You have done so much for the science fiction and fantasy scene in Australia. In fact, you were the person who took the trouble to make sure I became part of it, even though we'd only met online at the time

—

and a wonderful ride it has been. (Thanks so much!) What would you say to readers (not just those in Australia) who know nothing about the fan scene out there? How did you get involved and has it been worthwhile?

DONNA: Thanks again Glenda. Yes, the fan scene has been a remarkable experience for me. Coming from the outside as a reader I didn't even know fandom existed. It wasn't until I became a writer, joined a writer's group (Canberra Speculative Fiction Guild) that I became exposed to conventions!
My first big national SF convention was in Melbourne and it blew my mind away. I got to meet authors! Big name guests coming from the US etc. I was hooked ever since and, as you know, I went on to run two national SF conventions in Canberra.
So listen up. Google up. SF conventions are awesome places to meet writers, listen to writers talk about their works, buy books, get books signed, buy more books and find out about new writers and writers you never ever heard of

—

oh and buy books. Did I mention that?
In March, over Easter, Australia is having a national science fiction convention in Brisbane. It's called Contact and if you like writers and writing you should come along and check it out. There are awesome guests coming too and lots of writers on panels that don't appear on the big name guest list.


GLEND

A:

What are your working on now?
DONNA: November was NaNoWriMo (Write a novel in a month) and I participated. The aim is to write 50,000 words in November. I was aiming for 60,000 but got sick in the last week of November so only did the 50,000. It's not the whole novel, but it's a damn good start and I had lots and lots of ideas.
I'm working on an SF romance called Cold Soldier. I was aiming for SF romance, but the story has evolved into something more than that. I won't know until I finish the drafting and revise it. It definitely has romance but it's the balance thing I was discussing earlier. Sometimes I have too much plot (things happening) and that rushes the emotional journey, but it's early days.
I am also writing a Regency romance. This is a dream project. I love Regency romances as a reader, so I've always wanted to try my hand at it. Given who I am, I'm not sure I could make it light and fluffy and it covers some serious themes like sexual abuse and the aftermath. It may never get published so it may end up on Wattpad or my blog in future.

G

LENDA:

Many thanks for giving us these insights, Donna!
I've been thinking ...

O

ver the years, we have met up in Canberra, Melbourne, Brisbane, Perth, London, York, Glasgow and Denver … where next??
DONNA: You
left out Malaysia, Orkney and most of Scotland! Now Glenda were you
thinking of going to the world con in Finland in 2017? Because I am. I
am hoping to meet you beforehand. I think you would really like Sardinia
and Pompeii.
Photo: Donna in the centre, flanked by me on her right and a friend Paul, my daughter on

her

left

with

fellow author Trudi Canavan,

in the Orkneys, Scotland.
DONNA:

But you know I'll meet you anywhere because you are one of my favourite people, who has been a good friend, an inspiration and an educator to me. Also, one day I'd love to do one of your trips seeing the country, camping…you get to keep the leeches, spiders, bugs, mice or other critters!
GLENDA: Thank you, Donna!