Well, what a lovely day yesterday was.


SWANCON, the SF convention of Western Australia, was this year also the Australian National SF convention, which for a start is always fun. This year the International Guest was author and blogger John Scalzi ( an inspired choice!) and the National Guest was Kylie Chan (equally fabulous!). And I was sharing a hotel room with Donna M. Hanson, Canberra writer, con-organiser and longtime friend. So all those things = have a great time.


Lots of old friends, uncovered new ones.
Yesterday I had a kaffeeklatsch with some of the attendees, which gave me an excuse to babble (and thanks for all who came to listen). In the evening, there were the awards, which included the Tin Ducks (for West Australian talent), the Ditmars (the national awards) and the A.Bertram Chandler Award for Contributions to Australian SF.


So what could be better than for me to win two awards and for Donna to win the Bertram Chandler (richly deserved, I might say, as there is no one who has worked harder than Donna in the interests of Australian SF). The Ditmar was shared in a tie with the lovely Trudi Canavan (who is touring in Europe at the moment). For my book to be up there with Thief's Magic is a huge compliment.


So there I am with not one, but two, especially crafted and totally gorgeous trophies and some very golden memories. The photo below is of Donna holding Trudi's award and me with my Ditmar.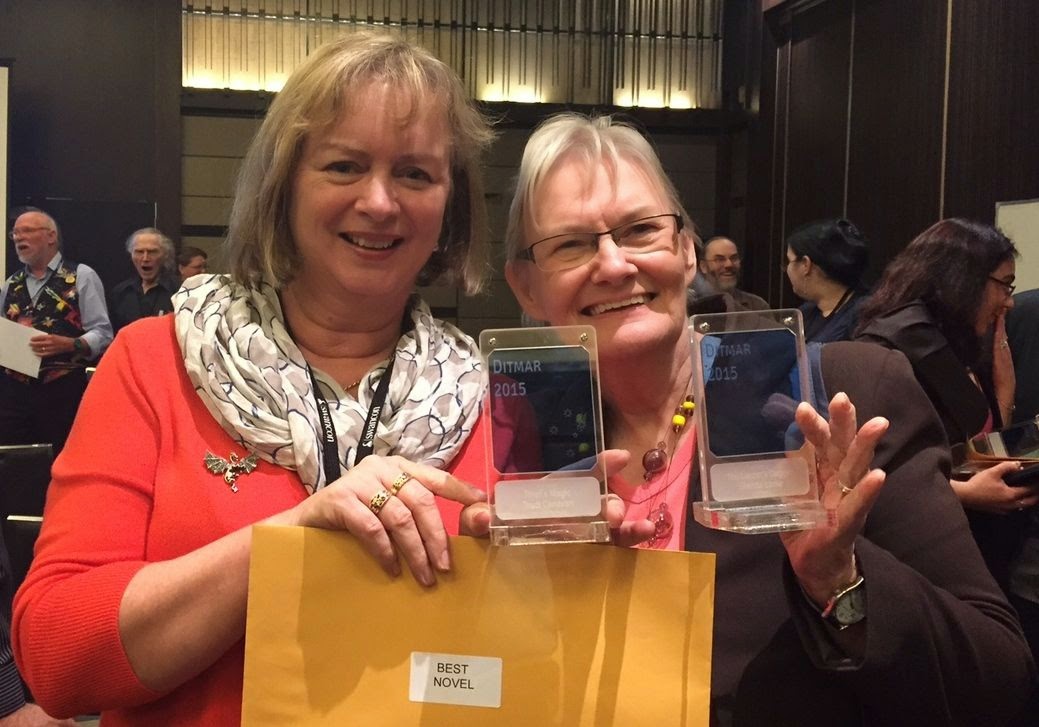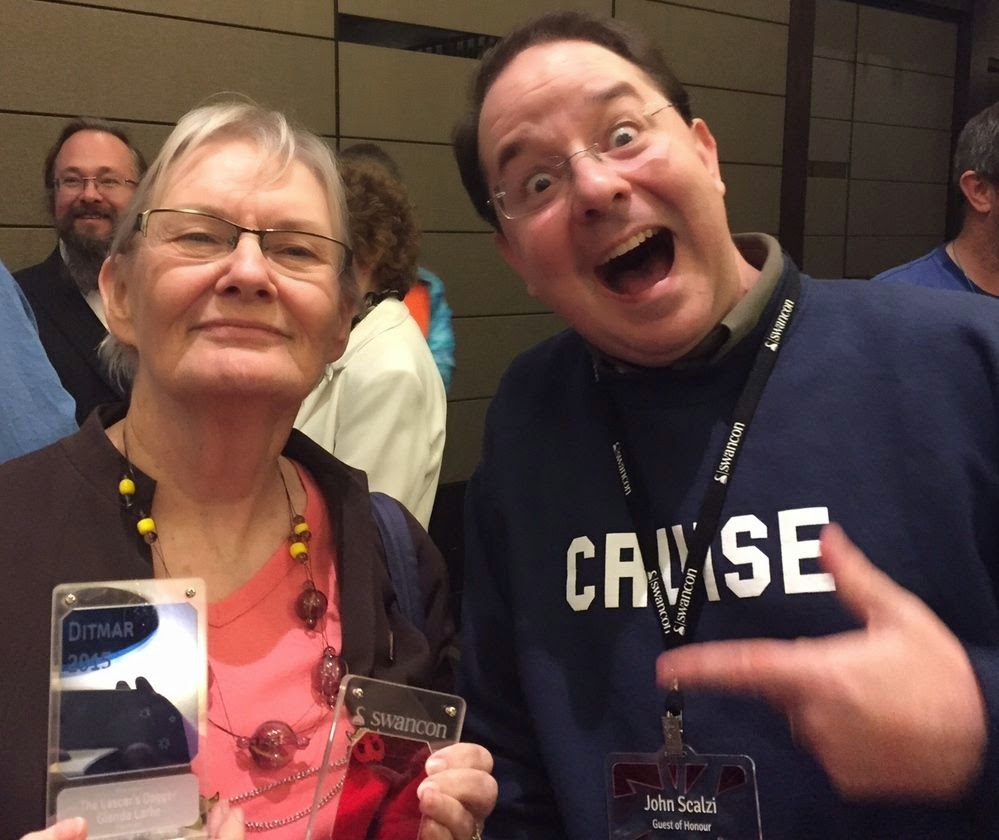 Me looking as supercilious as possible
The presenter was John Scalzi, and that man is SO MEAN. We had been talking earlier on and I'd told him that I'd never won anything and so there was no way he'd be presenting anything to me that night, cos I don't win things.
When he announced the award, and realising that Trudi was not present, he said "And the winner is Thief's Magic by Trudi Canavan!"
That presentation was made and I thought, 'Oh well, no surprise…'
And that sneaky man then said, fixing me with a beady eye… "Wait, there's more. It was a tie…"
And here is me (cynically dubious of the depth of his contrition) wondering if I should forgive him:
Of course no one wins awards without help.
My beta readers are fabulous for a start.
My editor at Orbit (Hachette), Jenni Hill, deserves a mention.
And then there's all the folk at Swancon and Natcon who worked to organise the awards. And lastly — and perhaps most importantly — all those people who voted.
Very hard to photogroph because they are clear!
You rock, one and all.