Actually not true. I am rarely lonely, although I do like wandering. It clears the head after being crouched over my computer for hours, trying to write a steady 1,500 (good) words a day in book 2 of The Forsaken Lands. The title of this one looks like being "The Dagger's Path". And I am incredibly lucky to have truly wonderful places to wander into, especially as we don't have a car. Like these: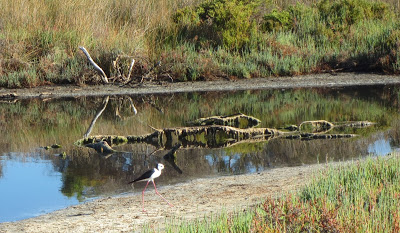 Black-winged Stilt striding out…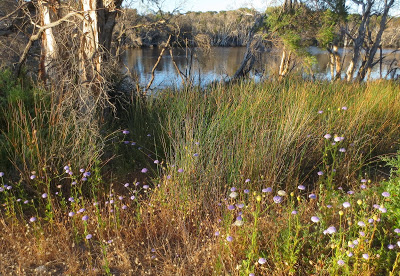 When all at once I saw a crowd
A host of dancing Rottnest Island Daisies;
Along the Lake, beneath the trees,
Ten thousand dancing in the breeze.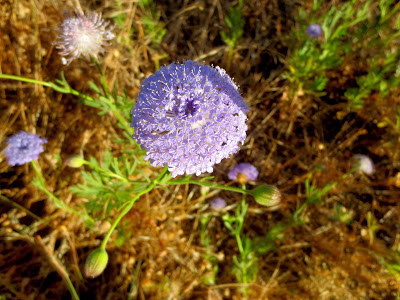 Ok, so it doesn't scan. But they are everywhere…growing wild, because this their home territory.



And then there's the wildlife:
This is a Christmas Spider, so called because it only appears at this time of the year. They weren't there a couple of weeks back, now they are everywhere. Tiny and quite exquisitely shaped and coloured, just like a Christmas Tree ornament.
After Christmas their colours start fading until by April they are pretty much black, after which they disappear.
Hard to photograph these, as the scuttle away across the web when you approach, and the wind was blowing the web all over the place. They are tiny too!
And of course, what is Australia without a kangaroo or two, or half a dozen?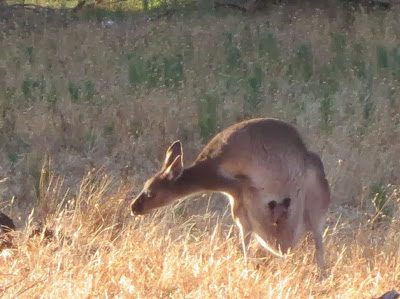 With joey in the pouch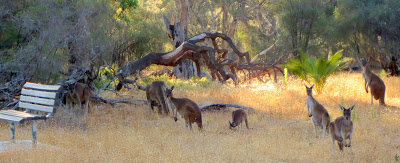 These fellas are right alongside the path and don't budge as I walk by.