This is where we had dinner last night:

Fish and chips, while we looked across at million $ yachts…
Mandurah, the area where we live, is a mixed sort of place. People live here because property is cheaper to buy and rent than closer to Perth (which is 50 minutes away by train, and some 70-80 kms by road).
People live here because it'a a lovely place to retire to: cooler in summer, warmer in winter, lovely places to walk, boat, bike, paddle, fish…and there are a load of retirement homes, villages, lifestyle villages for 45+, etc etc.
And some people live here because if you have the $$ you can live on a canal with your million dollar boat on your own personal jetty…


And if you are one of the latter, you can decorate your palatial home for Christmas and then people pay to come and see them on canal boat trips–which is what we did last night.
Which is, I will admit, all rather lovely. I particularly appreciated the folk who took a whimsical approach to their decoration. And thanks to all who took the trouble to decorate their homes and were gracious enough to wave as we went past!






Although I must say, parking your boat in front of the decorations did rather spoil the effect occasionally…




Like this one

:

Or this one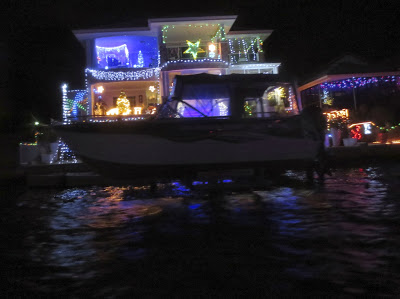 Or this one