Today it was blowing a gale and squally. So, of course, I had to walk down to the sea.
Birders will know what I mean.
When the ocean is wild, with the wind blowing onshore, you can get all kinds of interesting things along our coasts. Shearwaters, petrels, even the odd albatross.
No such luck today, although I did think for a time that I might have a Wandering Albatross, but it turned out just to be an Australasian Gannet. It was behaving like an albatross though, gliding in the troughs of the waves so effortlessly.
I love the wind, and there is something that stirs the soul when you look out over an ocean like this and think to yourself: the next stop is Africa.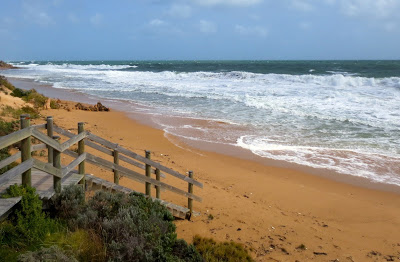 Watch out on Monday for a big announcement from my publisher. I also had some champagne-popping good news yesterday but I intend to sit on that for a while until it is finalised.