As most readers of this blog know, I am relocating to Australia. After Wednesday I won't be living in Malaysia on a permanent basis. Which means saying goodbye to much that has meant a lot to me over very many years.
I came to Malaysia in 1970, and here it is forty-three years further on and I have no idea where the time has flown. There is so much that I will miss, and of course I expect to be back often, especially as my husband is remaining behind to complete his contract and the selling of our house.
It seems appropriate that on my last weekend here I should attend a family gathering, in which a close relative sealed her engagement to a longtime friend. Over the years, attending such functions — and recognising the beauty of a rich cultural life and strong family ties — has become part of my life.
Senior members of my Malaysian family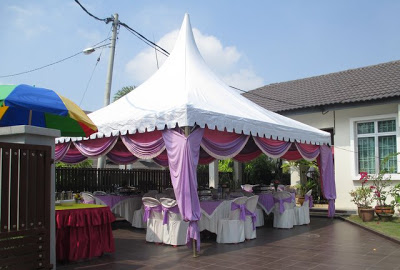 The decorative tent (for lunch) in the garden of the house
And so I will share with you these photos. For those of you from other cultures, this engagement ceremony may seem unusual because it is not a private moment between two people exchanging a ring; it is a family ceremony, in which the man's family arrives at the house of the prospective fiancee bearing gifts, delivered on an uneven number of trays. In return, they too are given gifts.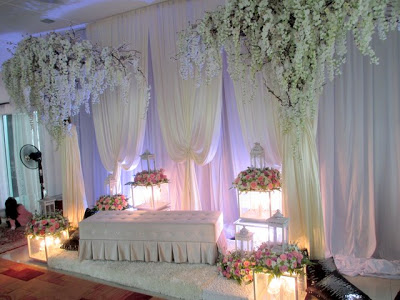 The dais for the ring ceremony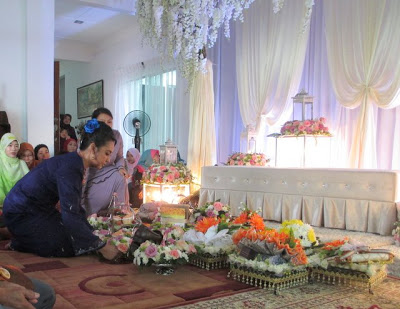 Bringing in the gifts
These presents can include things like fruit and chocolates, flowers and items of clothing.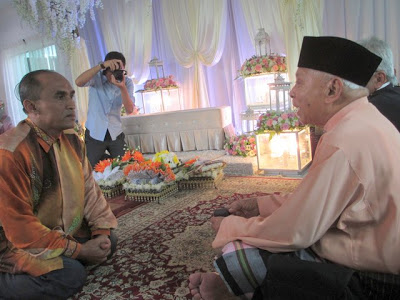 The patriarch of our family negotiates with the head of the other family over terms of the engagement
The bride price and the length of the engagement are discussed, the date of the wedding is agreed upon. (Nowadays the prospective bride and groom have doubtless settled this first with each other beforehand!) This coming wedding will also mean the union of different Malay cultures, (our family follows the matriarchal adat berpatih customs), so some attention was given to this as well today.
After all is agreed upon, the engagement ring is placed on the woman's hand, not by her prospective
husband, but by one of his married female relatives, in this case, his
mother.
In fact, at another family engagement some years
ago, I was the one to slip an engagement ring onto the hand of another
woman. Traditionally, the respective bridegroom does not attend!
The bestowing of the ring by the groom-to-be's mother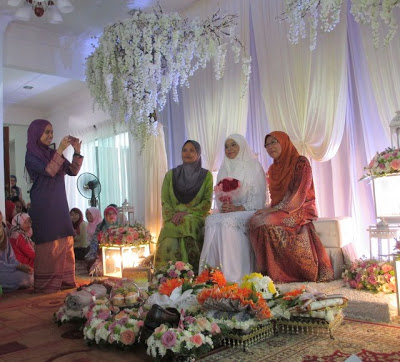 Proud mother of the bride shares a photo moment just afterwards…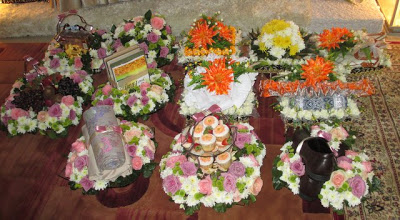 The gifts are beautifully decorated
Me and members of my Malaysian family with the now-engaged woman
Of course, this being Malaysia, food plays an important role, and everyone goes home well fed.