BARGAIN!! HARGA MURAH!
WE ARE REDUCING THE COST PRICE BY A QUARTER OF A MILLION RM from the estimated valuation
SALE PRICE NOW $1.4 million ringgit

(or nearest offer!!)
for 5 bedroom house and 12,000 sq ft land area.
REDUCED FROM $RM 1,650,000.
Yep, our house is up for sale. (NOTE: click on photos to enlarge)

THE WHY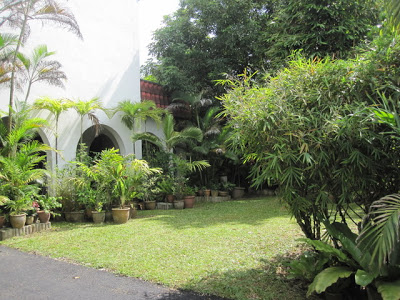 …because there are only two of us and this house is BIG and the garden is even BIGGER. We are downsizing our lives…
THE GENERAL AREA
Within walking distance of a primary school and a secondary school — our own kids attended both, many years ago.
Within walking distance of mosque and Darussyifa
3 min drive to wet market (in fact, we walk)
5 or 6 minutes drive from Universiti Kebangsaan, the North-South Highway exit, the new shopping centre coming up at the moment.
9 kms from Kajang town
8 minutes drive to the Komuter Train stop at UKM
Easy drive to Universiti Putra, University Tenaga and Putra Jaya
Serdang Hospital a mere 10-15 mins away
THE LAND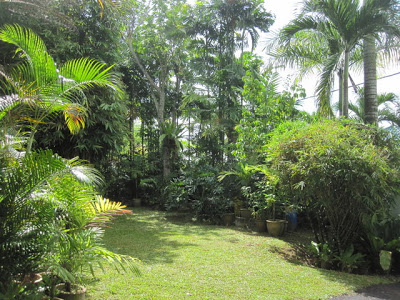 <— a view of the front garden from the driveway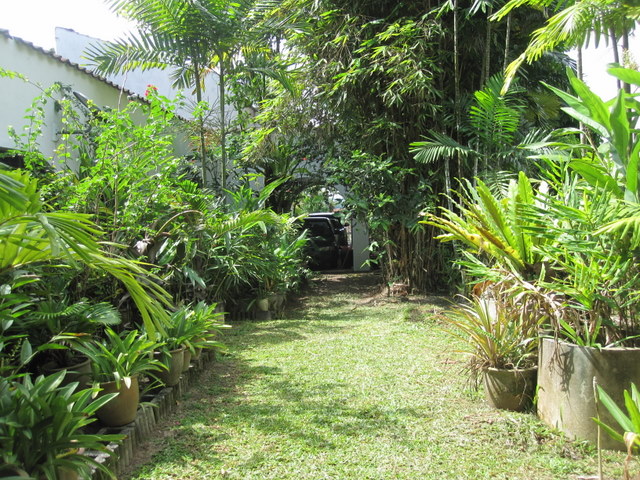 <;—- A view of the side garden looking towards the garage and front drive
As with almost all land in the area, it is leasehold. However, the lease does not run out for another 74 years! (April 2086)
The area is 12,004 sq feet. Yes, it's huge. You can't buy blocks that big these days.
It's on a rise with a view, very stable solid soil (the house has no cracks!)
The land over the back fence is a green area that belongs to the Bangi Golf course and has not been developed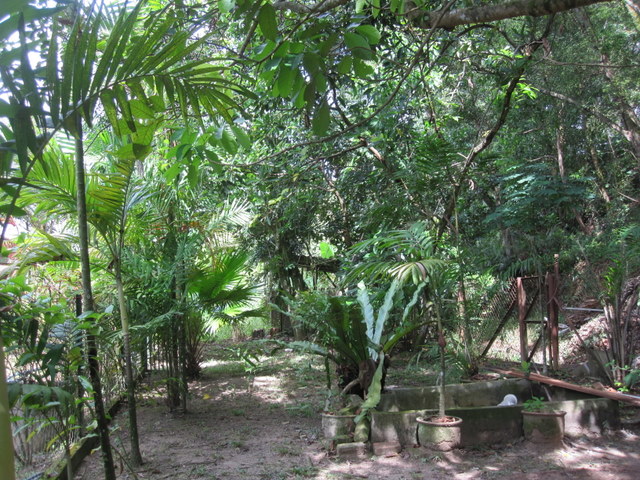 <—the goose pen/rambutan trees
The house has large, established back and front gardens.
The house outer walls are a minimum of 11 feet from the fence on both sides, offering privacy and quiet.
Part of the back yards has been fenced off to provide a goose pen, complete with cement pond. It also contains two rambutan and one nangka, all trees that fruit prolifically.
Other fruits include bananas, breadfruit tree (buah sukun), longan (another prolific fruiter), an avocado (starting to flower for the first time) and a number of passionfruit vines (buah markisa).
The neighbours are great!
Over the years 70+ species of wild birds have been sighted in or from the garden. You too can wake up to birdsong…
THE HOUSE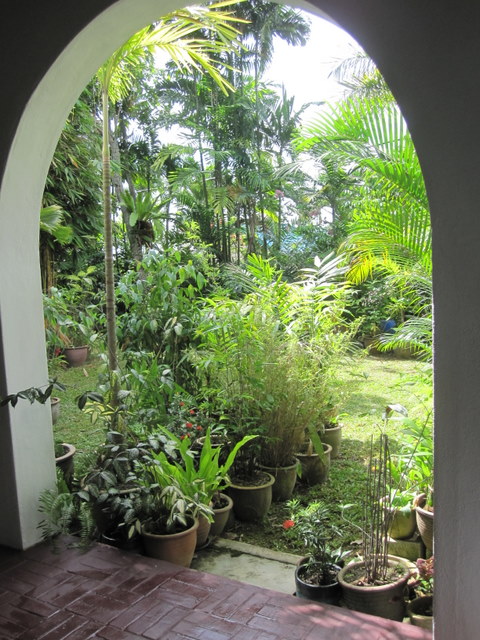 We built and moved into the new house in 1981. We will be sad to leave…
We built it one-storey, thinking it would last us into old age when our knees start objecting to steps…
Great house for young children too, when there is no upstairs.
Four large bedrooms + large maid's room (or storage area)
Three bathrooms
Large lounge (Italian tile floor
Large dining (will take a 10 or 12 person table) Italian tile floor
Large dry kitchen (we eat in the kitchen)
Family room (with servery from kitchen, room large enough for family dining table)
Large laundry area/wet kitchen
Long side verandah with built in flower boxes
Wide front verandah
Orchid/fern pergola built as part of the house
Much of the house flooring is laminated tropical hardwood board
Under-roof garage area will take two cars and there is room to park 3 more in the driveway. Street parking is also ample.
LOUNGE ROOM
LOUNGE ROOM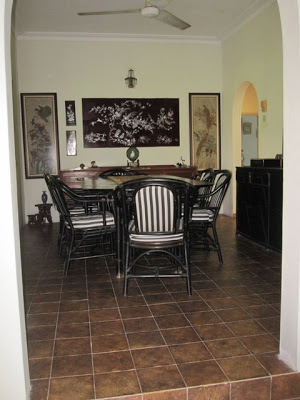 DINING ROOM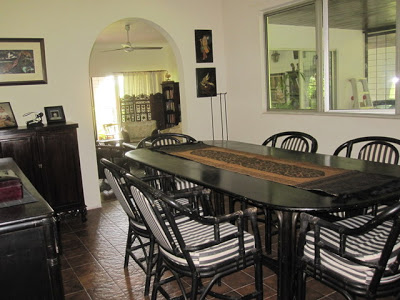 DINING ROOM
MAIN BEDROOM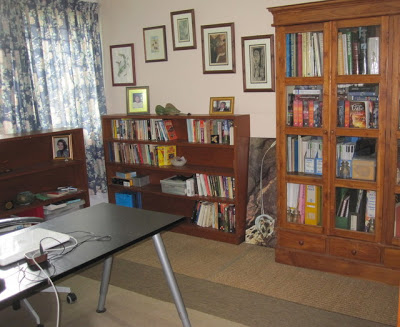 BEDROOM 2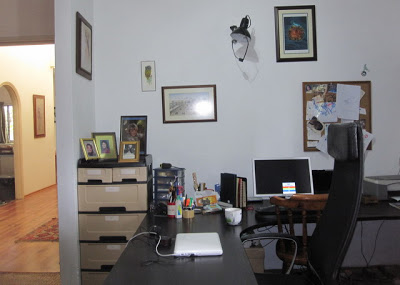 BEDROOM 2 ( & BEDROOM 3 same size)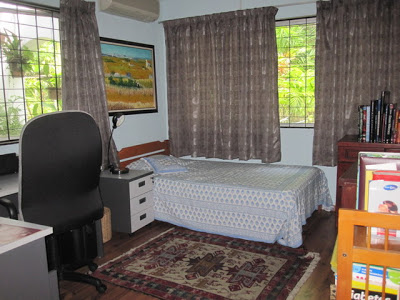 BEDROOM 4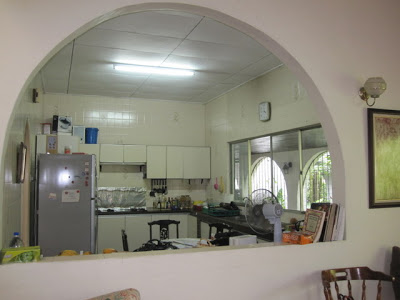 KITCHEN, AS SEEN FROM FAMILY ROOM
FRONT VERANDA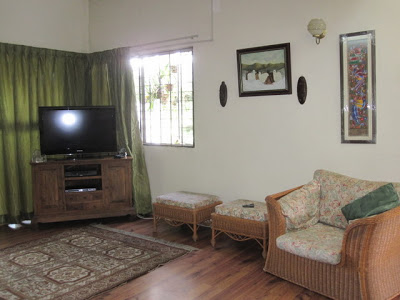 FAMILY ROOM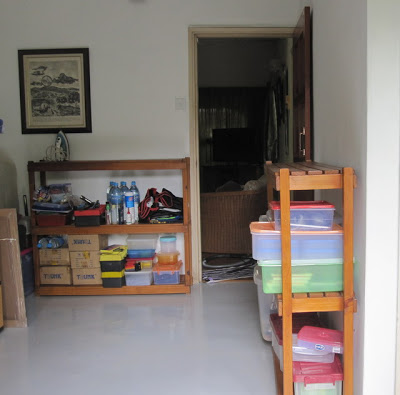 LAUNDRY/WET KITCHEN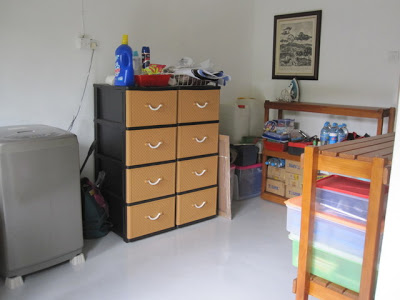 LAUNDRY/WET KITCHEN AREA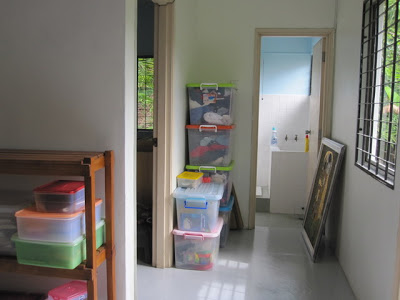 STORAGE AREA/MAID'S BATH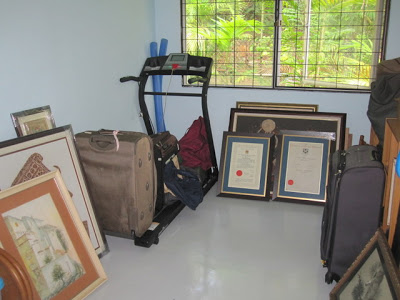 MAID'S ROOM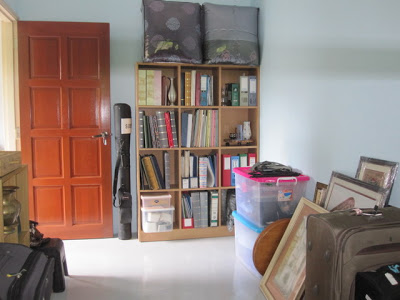 MAID'S ROOM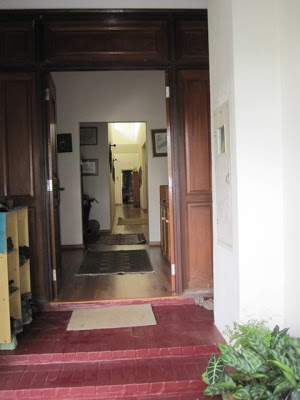 MAIN PASSAGE FROM FRONT DOOR
ADDED ADVANTAGE: A GOOD ALARM SYSTEM
Sophisticated day or night alarm system with an interior infra-red motion alarm, as well as alarm circuits on all grilles and doors and ceiling. All this will still function even if the power is off. Tripping the alarm will register on your handphones and can be activated or de-activated by your phones.